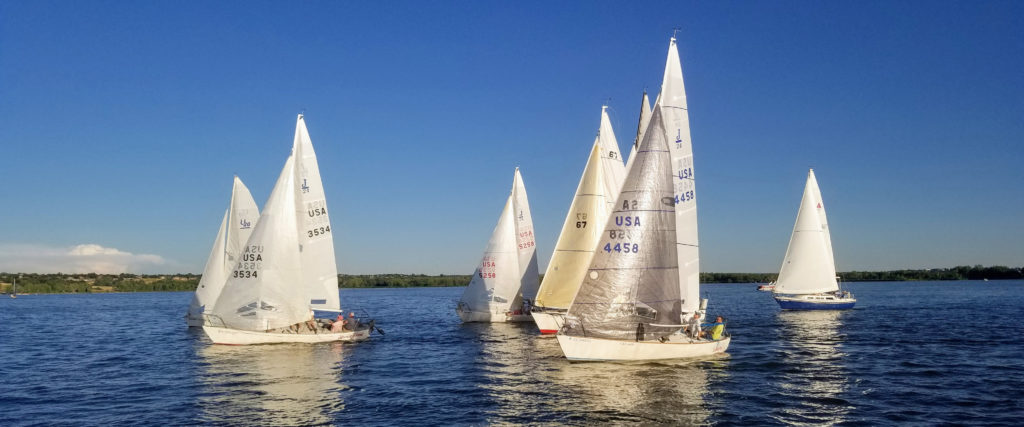 Thawout Series
Saturday afternoon combined keelboat & dinghy racing
Spring Series
Wednesday evening keelboat racing
Thursday evening dinghy racing
Summer Series
Wednesday evening keelboat racing
Thursday evening dinghy racing
Frostbite Series
Saturday afternoon combined keelboat & dinghy racing
If you are interested in getting involved with Denver Sailing Association and our racing programs, feel free to contact the DSA Commodore or any of our Fleet Captains to provide further details.  We welcome all new members and encourage those of you interested in racing to come on down to the docks and get involved – we are always looking for crew!
The start-finish line is located at the RC marker, the numbered marks are then used to create a race course.
Marker GPS Coordinates:
RC Start

39°38'29.1″N 104°51'26.5″W

39.641418, -104.857357
1
39°38'51.1″N 104°51'03.6″W
39.647533, -104.851008
2
39°38'39.1″N 104°50'59.2″W
39.644201, -104.849769
3
39°38'29.7″N 104°50'54.1″W
39.641582, -104.848359
4
39°38'18.4″N 104°50'46.0″W
39.638455, -104.846110
5
39°38'14.7″N 104°51'03.5″W
39.637416, -104.850972
6
39°38'09.8″N 104°51'24.3″W
39.636050, -104.856753
7
39°38'11.1″N 104°51'49.1″W
39.636406, -104.863638
8
39°38'17.4″N 104°52'06.9″W
39.638156, -104.868572
9
39°38'29.0″N 104°51'54.3″W
39.641375, -104.865072
10
39°38'40.4″N 104°51'41.0″W
39.644562, -104.861385
11
39°38'47.7″N 104°51'26.2″W
39.646581, -104.857287
Racing Rules
Here is a link to the ISAF website where you can navigate to multiple pages related to the Racing Rules of Sailing.
Water Temperature
Check the Fishing.com website for an estimate of the current water temperature in the lake, and for other interesting information about the lake, including photos.
Weather Forecasts
Here is a link to the NOAA forecast for Cherry Creek Reservoir.
Here is a link for a Satellite Weather Map.
Here is the Windfinder forecast.
Current Wind Conditions
The Cherry Creek Windfinder weather station is not always on, and it seems to be sheltered from the wind at times. For more accurate readings, check the Windfinder station at Centennial Airport.