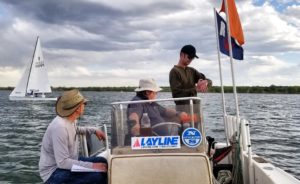 When you renew your DSA membership, you can also sign up for  Race Committee (RC) dates.  The  2019 RC requirement has changed to 3 days of racing in order to be scored and receive a trophy.  You can check the RC schedule above to see what dates are available.  You can request dates by e-mailing the Race Committee Chair at [email protected]
The Race Committee Chair will confirm the dates that match your preferences, and will let you know what they are. He will forward, a week before you are scheduled, instructions for working on Race Committee. Once you are assigned specific dates, you are responsible for meeting the RC duties or finding a replacement should a subsequent conflict arise. If you do swap your assignment with another member, be sure to let the Race Committee Chair know.
It should be noted that if you race before you have committed to your RC dates, you are only able to carry two (2) race day results (NoRC). If you race more than 2 days, the older race results will be deleted.
For more information on working Race Committee, check the Race Committee Resources page above. RC instructional materials are also available on the RC boat.
Note that skippers who have not served on Race Committee three times are not eligible to receive awards for their results in series races! See the SIs, Section 12, for details.