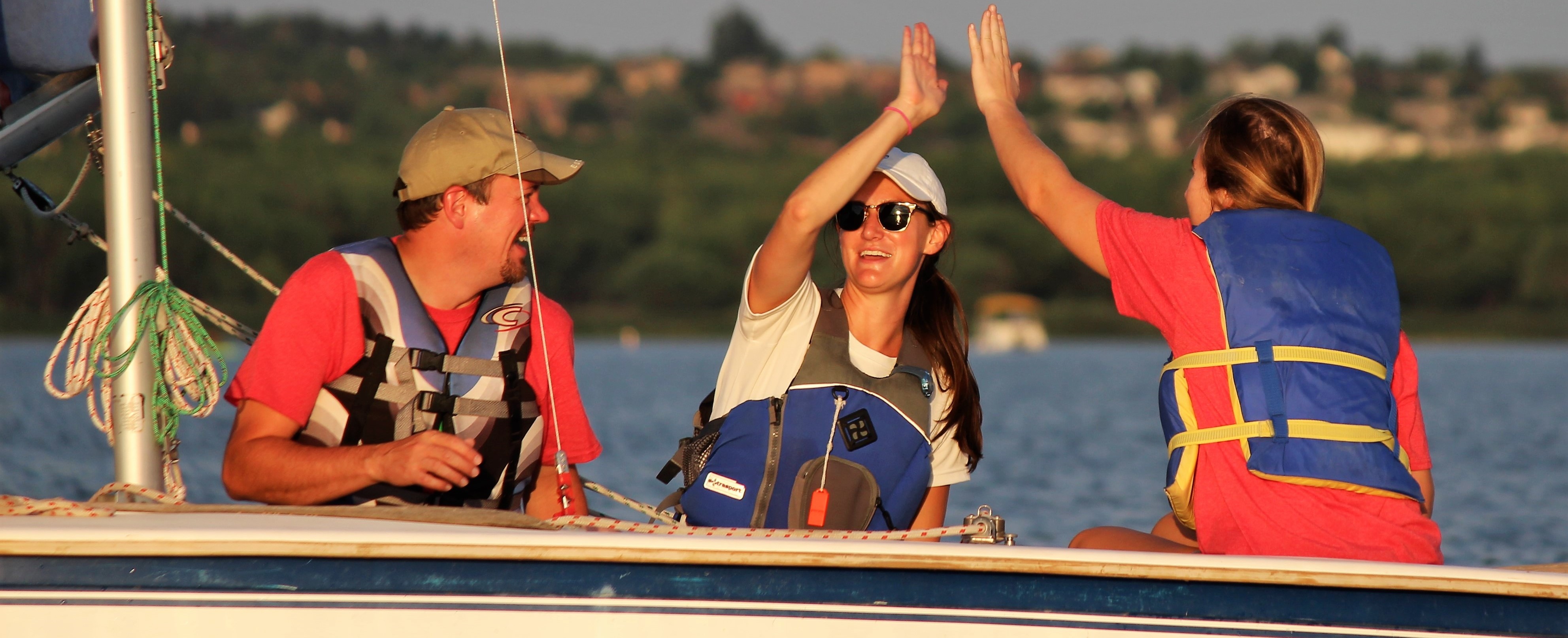 Learn to Sail
Denver Sailing Association's partner organization Community Sailing of Colorado provides a great environment for youth and adults learn how to sail prior to testing their skills on a race course.
Choose from any of the following class or camp options:
Adult Programs
Adult Beginning Sailing Class
Adult Intermediate Sailing Class
Adult Advanced Sailing Class
Wind, Women & Water Clinics
Adult Basic Keelboat Class
Introduction to Racing Clinics
Young Professionals Sailing Nights
Youth Programs
Little Puffs Sailing Camp (5-7 year olds)
Learn to Sail Camp
Beg-Intermediate Sailing Camp
Intermediate Sailing Camp
Intro to Advanced Sailing Camp
Advanced Sailing Camp
Race Camps
Junior Instructor in Training Camp
High School Adventure Sailing
After School Adventure Sailing
Stand Up Paddle Board + Sailing Camp
Junior Race Team
High School Sailing Team
Race Team Clinics
Fun for the Whole Family Programs
Open Sail BBQs
Friends & Family Sailing
First Sail Nights
Sailboat Rentals
Summer Camps: Camps run Monday-Friday from 9-3:30pm. You can sign up for any week between early June and mid-August. Our Summer Camps are an incredible opportunity for adventurous youth, ages 5-17, to experience all that sailing has to offer. What could be more fun than driving around in what feels like a wind-powered floating go-kart? In addition to the excitement it brings, sailing also helps youth further develop skills such as collaboration, creative problem solving, independence, leadership, and effective communication. At CSC we feel these experiences reach beyond the shores of our reservoirs and really expand a child's life. Thanks to donations made to our scholarship program last year, we awarded scholarships to 51 young members of our community who couldn't otherwise afford it.
Adaptive Sailing Program: CSC's most impactful program is our Adaptive Sailing Program. This program provides low to no cost sailing opportunities and breaks down barriers for participants living with physical and cognitive disabilities. Utilizing specially designed equipment, including five adaptive boats and unique programming, CSC teaches sailing to members of our community regardless of ability. This program put over 500 people on the water in 2018! We host dozens of group outings each year with other partner organizations such as Craig Hospital and NSCD who serve individuals living with disabilities. We rely on a huge team of volunteers to help make these experiences safe, seamless and memorable. In addition, during the 2nd or 4th Mondays of June-August, we host free open-house style adaptive sailing nights that are very popular. Consider volunteering at one of these events and truly make an impact on the lives of individuals who couldn't believe sailing was a possibility. These outings are extremely special to us by truly making sailing accessible to all.
Contact Community Sailing of Colorado directly for more information: communitysailing.org/contact-us/.