The Ultimate 20 is a one design boat that easily meets the need of the Colorado Racer.  It's a lightweight keelboat with a fully retractable keel that makes it easy to travel the miles between regattas in these western states at a moments notice; a great weekend warrior with the equipment and design to keep the thrill in sailboat racing.
The Ultimate 20 was the result of a team of sailors with impressive credentials. Jim Antrim of Antrim Associates-Naval Architects, sail maker and Olympic medalist Jay Glaser, and 505 builder and foil specialist Larry Tuttle. Their idea was simple. Create a monohull with multihull performance. They wanted a dry and stable platform with safe interior space for kids or crew. They also wanted a lightweight trailerable to have responsive dinghy-like handling, all with the cockpit comfort of a 30 footer. After years of prototype testing, the U20 team achieved the perfect blend of size and simplicity, creating the ideal boat for racing ONE DESIGN, PHRF or any weekend sail about. The U20's design offers exceptional craftsmanship that is reliable, safe, economical, and fun to sail.
Read more about the U-20 here.
Colorado Fleet: Boats located around the area to include. Cherry Creek, Carter, and Ruedi Lakes.
To learn more about the U20 and the local fleet, visit us at www.u20class.org
Contact:
---
NEWS
---

---
2013 Ultimate 20 North American Championships
By Michael Eisenberg U-20 # 178,
Toon Town
The 2013 Ultimate 20 North American Championships were held in Marina Del Rey, California September 12-15, 2013.  My club, Del Rey Yacht Club, hosted the event.  The entry list included 14 competing boats from every corner of the country. Thursday was the check in, registration and measurement day.  There was time in the afternoon for all the competitors to head out to the race course area off of the Venice pier in the Santa Monica Bay to participate in practice starts and race course familiarization.  Eric Shampain from Ullman Sails Newport Beach volunteered to conduct the practices, photograph the competitors and then to follow up back at the club with critique analysis and sail trim coaching.
Rumbullion, actually the chartered Ricochet) from Lake Norman, North Carolina, perfectly timed a port tack start and sailed a flawless race to a convincing win.  The star of the day was Chris Chambers (Black Sheep) from Sandpoint Idaho.  Black Sheep pulled off wins in the next 3 races with stellar tactics and perfect boat handling.  This was championship sailing at its best.
Black Sheep was the clear favorite with a score of 2, 1, 1, 1.  Mark Allen (Junta), our class president from Salt Lake Utah put together a strong set of races with finishes of 4, 2, 2, 3.  Toon Town was still in the hunt with 3, 3, 3, 2. At the end of day 1, Black Sheep held a solid lead with Junta and Toon Town tied for second 6 points back.
Black Sheep stumbled a little with finishes of 3, 11, 6.  A jib tack snap shackle releasing at the leeward mark contributed to their poor finish in race two.  That race would become their discard.  Junta's day was mixed as they started with an 8, but then came back strong with a 1, 2.  At the end of day 2, the results after a discard showed Toon Town in the lead with 13 points and Junta and Black Sheep tied for second 1 point behind.  This was a 3 boat battle that was going to go down to the wire.
Toon Town's starts really suffered.  We were last off the line in the first race.  Junta had sailed out to a commanding lead. Keith put his personal turmoil aside, knuckled down and started to call perfect tactics.  We rounded the first weather mark in 10th.  We passed 2 more boats and rounded the leeward mark in 8th.  Keith really pulled a rabbit out of the hat, and with masterful skill calling shifts got us up to 3rd at the last windward mark.  We had great downwind speed with our new Ullman spinnaker all weekend, and it came through again as we passed one more boat to take 2nd to Junta's 1st.  Junta and Toon Town were now tied in the lead.  Black Sheep pulled another 11th, and that was going to make their championship hopes very difficult to attain.
The next race was nearly as difficult.  Toon Town got off to a slow start, and Junta was sitting on top of us.  We engaged in a tacking duel with Junta while managing to pick off some of the boats around us.  Junta finished 3rd and Toon Town finished 5th.  Using throw outs (8th for Junta, 5th for Toon Town), Junta now led Toon Town by 2 points.  The wind piped up for the last race, and Toon Town felt especially fast.  We started at the boat end, but pulled our first over early.  After returning to start we were dead last.  Junta was in the lead pack off to the left side of the course.  Toon Town started playing shifts to the right side, and by the time we got to the weather mark we had sailed up to 5th. Junta was buried in the fleet.  That is about how we finished and we both used race 10 as our discard.  Junta had to keep their 8th place finish from race 5 and that was the championship. Whew!  This was the closest regatta I can remember participating in.  The pressure was crushing. The level of helmsmanship extended much further into the fleet then just the first 3 boats as 6 different boats won individual races.  Keith Ziegler (VP from the Bankrupt) from Detroit won race 5 and Tom Burden (Layla), from Santa Cruz and my perennial nemesis on the West Coast, finished the series with spectacular twin wins in race 9 and 10.  This was a fantastic regatta.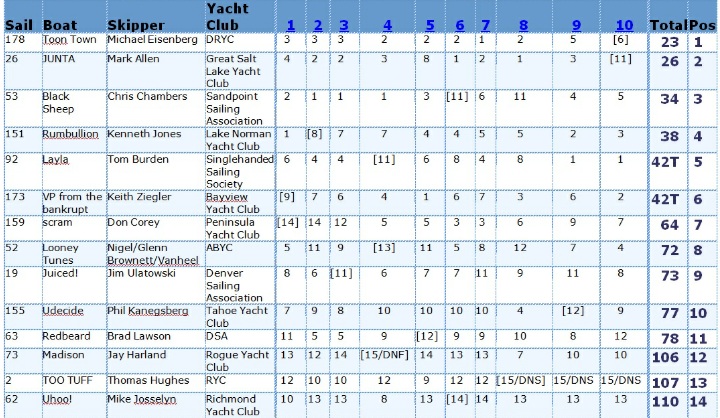 ---
Peak Seven Regatta August 24/25
By Brad Lawson Fleet Captain, U-20 Fleet 4
"It ain't over 'till (or until) the fat lady sings" is a phrase commonly used in association with organized competitions, particularly sports. It means that one should not presume to know the outcome of an event which is still in progress. More specifically, the phrase is used when a situation is (or appears to be) nearing its conclusion. It cautions against assuming that the current state of an event is irreversible and clearly determines how or when the event will end (Wikipedia).
Three U20s from Fleet 4 showed up at Dillon Lake this past weekend….. unfortunately the wind did not. RC struggled to get just three races in over the two days. On the line were Cliff Begnaud's Underdog with crew Mike Glenn and Peter Muller. Juiced! skippered by Jimmy Ulatowski and crew Katie Jacquemin and Mark Stieber (It was great to see Mark back on the water!). And Marty May's Red Line with Jay Baudo upfront, Marty calling tactics, and Brad Lawson driving.  Since Red Line was essentially out of the hunt for the Cup, Marty suggested the team practice for the upcoming NAs which will be sailed on Brad's boat, Redbeard.
Sailing well all season, Underdog chose the middle of the course in the first race and it proved to be fastest on the first windward leg. Juiced went left and Red Line sailed the right side of the course. The results were Underdog with the bullet, Juiced! second and Red Line third.
The second race turned into a 'bob fest' after rounding the windward mark. In a dying breeze, it took over 90 minutes to reach the leeward mark. RC ordered the race abandoned for all fleets and racing was over for the day. The results were Juiced! first, Underdog second, and Red Line 3rd. Hoping to change their luck in the windless conditions the boys on Red Line broke out the flask and beers on the downwind leg, but to no use.
Sunday's only race experienced a steady breeze. With wind coming from the south, the windward leg was sailed down the Snake River. Red Line rounded the windward mark first and was able to build on its lead throughout the remainder of the race. Underdog and Juiced!, contenders for the regatta's 'pickle plate' and overall Pagett Cup series, duked it out in an exhausting tacking and gybing duel on the remaining legs. The results had Red Line with the bullet, Juiced! second, and Underdog in third.
So the Peak Seven Regatta results were: 1st Place – Juiced!; 2nd Place – Underdog; and 3rd Place Red Line. The spectator fleet witnessed some tight fleet racing and even match racing of sorts between Juiced! and Underdog. Each of  the three boats had a bullet. Good times were had by all.
Due to low water on Cherry Creek Reservoir, DSA has decided to make the 2013 Governor's Cup a dinghy/multihull-only event. That means Chatfield's Columbus Day event will be the last race in the Pagett Cup series. Based on results through the Peak Seven regatta, only three points separate Underdog and Juiced!. While Underdog is leading, and looks to be in a favorable position for the title, remember……….. "It ain't over till the fat lady sings!"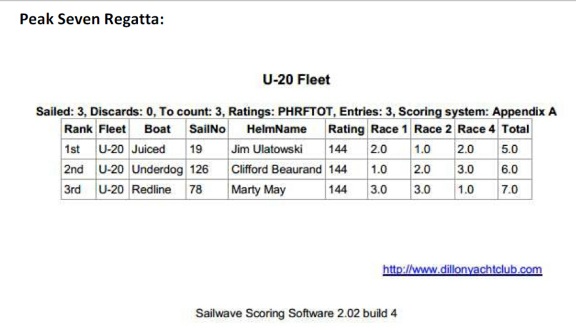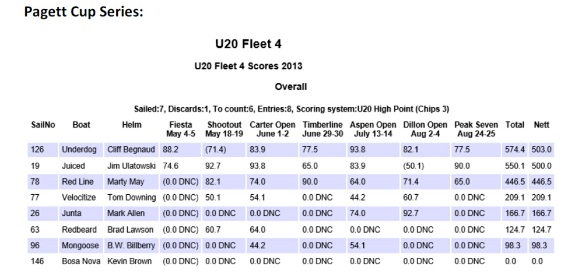 ---
Aspen Open Regatta July 13 - 14
by Cliff Begnaud Skipper, U-20 # 126,
Underdog
Mark Allen on Junta made the voyage from Salt Lake City again this year. However, misfortune struck when he broke a rudder gudgeon. It turns out to be really difficult to steer a sailboat without a rudder. Fortunately, he was able to apply a quick fix and missed finishing only the first race. Also in attendance were Tom Downing on Velocitize, B.W. Billberry on Mongoose, Jim Ulatowski on Juiced!, Marty May on Red Line and yours truly on Underdog.
As we watched most of our fleet sailing in tight formation on the first beat of the first race on Saturday, it seemed as if they were taking the long way to get to the windward mark (mark #2). It turns out that some of the fleet had recorded the course for the previous fleet of boats. Others had recorded it correctly, but did not know where Mark #2 was located. Like lemmings rushing over a cliff, they advanced together toward the wrong windward mark.
It appears that Underdog and Redline were the only two who knew both the correct course and the location of Mark #2. Eventually, the rest of the fleet caught on and corrected their mistake.
The winds on Saturday were the best in recent memory at Aspen. Sure, we've had great winds there before, but those usually were accompanied by times of calm and/or storm winds. This time, the porridge was just right. Just right for a U20 means the winds were strong enough for some great planing runs. At times, the wind strength held long enough to provide a planing run the entire downwind leg; great fun!
We can usually expect some powerful afternoon storms at Ruedi, and they were in the neighborhood, but they never came quite close enough to cause a problem. After a great day of racing, there were only 3 points separating the two lead boats, Underdog and Juiced!; third place was one more point behind (Redline). A 3 or 4 point lead is NOT a comfortable lead in this fleet. That spread can disappear in a single race. Sunday would be interesting and intense.
The Aspen Yacht Club is renowned for the Saturday night food and entertainment; they did not disappoint. The Aspen Open is also renowned for some painful hangovers on Sunday morning. Fortunately, all the U20 crews were up and walking around; they even seemed somewhat lucid.
We were hoping for a repeat of the winds that we had on Saturday, but it was not be. The first race was delayed while Race Committee waited for a reasonable breeze. They finally picked a twisted route around the lake, hoping that somewhere in there we would get a windward leg and a downwind leg. It did not turn out that way. In fact, every leg of the race, except the first, was a reach. Mark and crew on Junta scored their second win of the weekend by leading the rest of us lemmings around the race course. They had no intention of letting anyone pass, and they didn't.
The final race of the regatta was in very light winds from the east. This meant the course was reversed. This also meant we were back to normal mountain lake racing in unpredictable, shifty, on again, off again winds. Marty scored his first win for this event, which put him in a tie with Mark. The win also gave Marty the tie breaker he needed for 3rd place. Juiced! finished the regatta in second place and Underdog held on to the lead to win the regatta.
It is exceedingly difficult to win a regatta in the Colorado U20 Fleet. Our sense of accomplishment has never been higher and the crew on Underdog put in the best performance that I have seen in the nearly 5 years that we have been racing together. My thanks go out to Mike Glenn and David McVey. Without them, the results would likely have been very different.
The Dillon Open is the next event in the series. Be advised that trailer parking may be an issue this year. An early arrival is the best insurance for finding a spot for your boat trailer.
---
Timberline Regatta June 29 - 30
Three DSA U-20s Line Up Their Ducks at the Lake Dillon Timberline Regatta
By Clifford Begnaud, #126,
Underdog
On Friday evening, as preparation for a weekend of racing was winding down, our dog Fidget started barking aggressively at something in the front yard. I went to the door to see what had her so riled up and saw a family of Mallards marching single file from under my truck. They crossed the ditch and found the grass greener on the other side of the street. My wife, Patti, walked up behind me to also see what was out there. She said," Ahh, I see you have all your ducks in a row". Now, that would be something worth a bark.
For 2013, U20 Fleet 4 has replaced two regattas on the series schedule with club regattas at Lake Dillon. The Timberline Regatta is a replacement for the Finally Spring Regatta in Pueblo and the Peak Seven Regatta in August will be a replacement for the Fathers Day Regatta at Lake Alcova in Wyoming.
When we arrived in Dillon on Saturday morning for setup in the usual spot along W. Lodgepole street, we found that things had change dramatically. About 80% of the space previously commissioned for trailer parking was now replaced with short parking spaces for auto's only to make room for a bike path. Even though there were only a few boats needing a place to rig, Underdog took the last available spot and Juiced! had to venture elsewhere to find parking. I can't imagine what is going to happen at the Dillon Open when numerous boat trailers will need a parking place. Dillon Commodore, Scott Snyder, claims that arrangements are being made to open up other parking areas for the regatta. Despite this, I think an early arrival strategy is in order for the Open.
The wind forecast for the regatta was 7 mph, all weekend. I'm happy to report that the forecast was mostly wrong.
Despite having only 3 U20's in attendance, the PRO agreed to give us our own start. This was welcome news, even if it meant being in the 4th start. In the first race, Underdog winged the windward mark at the first rounding. Marty May on Redline capitalized on this error and won race 1; quack, quack.
Before race two could start, storms brewed all around us. Marty and crew decided they didn't want to be on the water when the carnage started and headed for shore. Juiced! and Underdog decided to stick it out. On Underdog, the crew surmised that the two main threats were both moving away from the lake. This observation turned out to be correct. However, those two storms would not depart without sending their greetings to the sailboats on Lake Dillon. Toward the end of the first downwind leg of race 2, a race with wind in the teens, the wind bumped up into the twenties. For the next 20 minutes or so, we had very strong winds with the occasional gust to 30+ knots. Jim decided to roll up the jib, but we kept both wings spread wide. By the end of the next downwind leg, the winds had eased a bit and the strongest wind of the weekend was now behind us. The crew on Underdog was feeling quite plucky with a win in race 2.
By the start of race 3 Redline was back out on the race course and he continued to quack us up by winning the next two races.
On Sunday morning it looked like there would be more storms than there were on Saturday. Once again, Marty won the first race and once again he headed for shore after the start of race 2 when storms threatened to turn Lake Dillon upside down. There was some lightning in the area and the winds were building. Oh brother, we might need webbed feet to survive this one. Fortunately the winds never reached the level of those that accompanied Saturday's storms and we didn't even get rain.
During race 2, the crew on Underdog heard 3 horns and saw the N flag (abandon race) being flown. Jim was leading the race and we continued in a row behind him to the finish line. When Jim passed the RC boat they told him that they had abandoned. One of my crew suggested that we not follow Jim all the way to the finish, rather we should follow some of the other boats in "V" formation and head for the dock. However, I saw the AP flag flying and found it unusual that we would be in postponement if all racing were abandoned. We went through the finish line and RC told us that the race was abandoned and that we were awaiting more racing.
Underdog joined a group J22's and Stars that were nested together; hiding from the wind on the leeward side of a nearby hill. Before long, the AP flag came down and the "raft" of boats waddled back to the start line in light wind. We were surprised to find that Juiced! was nowhere in sight. We learned later that they believed racing was abandoned for the day, based upon what they were told by RC.
We completed one more, very light air race and arrived at an empty dock.
To say that Marty and crew had their ducks in a row is an understatement. They were able to win the regatta by competing in only 4 of 7 races. (one of which was abandoned). All of us learned a lesson about looking for and insisting upon seeing the appropriate feathers being flown rather than relying on what we hear from Race Committee.
The winds this weekend were the best that I've seen at Dillon in years and I think that changing our schedule to this venue for two additional regattas was a wise choice.
The Aspen Open is less than two weeks away and the U20 fleet should have a good turnout with at least one out-of-state visitor. Racing will be tight; be sure to have your Attitude in alignment.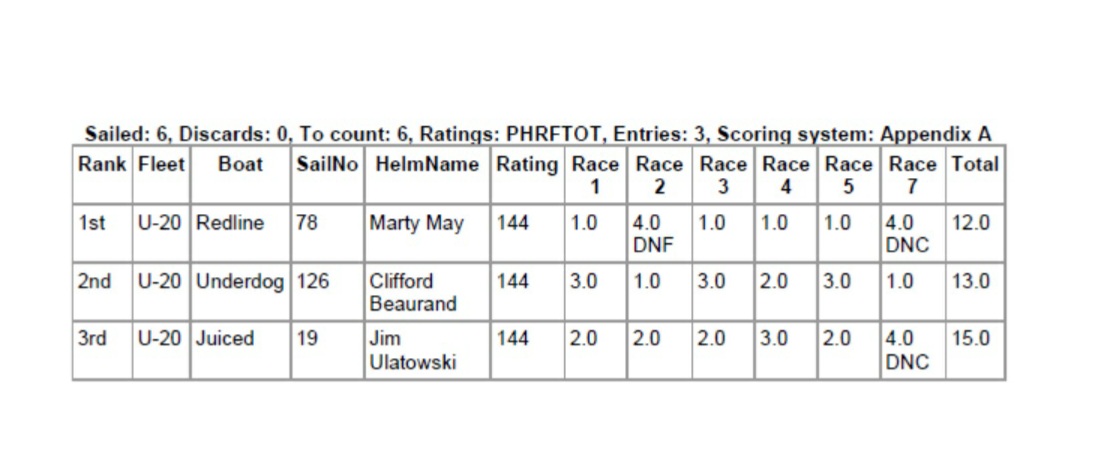 Best regards, Cliff Begnaud
Underdog
#126
---
Carter Lake Open Regatta June 1 - 2 2013
Extremely Close Competition at the 2013 Carter Open
By Clifford Begnaud, # 126,
Underdog
Eeny, Meeny, Miny, Moe catch a sailboat by the toe… It's your turn to be "it"…. no, it's my turn, now your turn…. And so it went.
The 54th annual Carter Open regatta was well attended this year.  BW Bilberry was back from his winter hibernation in Costa Rica, Tom Downing had his camper for onsite accommodations. Jim Ulatowski, Marty May, Brad Lawson and yours truly were all in attendance for a very enjoyable, but very tiring weekend of One Design racing.
Carter Lake was up to its old tricks of shifty, puffy and disappearing/re-appearing winds. No matter what you did, the lake might reward you for it this time; or smite you with a surprise leaving you wondering what the heck had just happened.
It is unusual for this to happen, but, the race for the trophy was really between just two boats,  Jim Ulatowski and crew on Juiced! and the shorthanded Underdog.  Underdog usually led the way on the windward legs, but Juiced! would come back and snatch the lead away on the downwind leg.  The two boats took turns finishing first and second until race #7 on Sunday when Marty May spoiled the party by finishing 2nd just behind Juiced! and a half-boat length in front of Underdog.  This put Underdog two points behind Juiced!.
The only hope for Underdog now was to win the final race AND have another boat finish before Jim.  This would set up a tie and Underdog would win the tie breaker
As the countdown to the start for race #8 was winding down, Underdog made a rarely attempted port tack approach. We tacked in front of the starboard tack boats and headed for the pin end at full speed. Underdog crossed the start line within a second of the start signal at the favored end, a perfect start; quite possibly the best start we have ever made. This allowed Underdog to reach the new breeze first and we pulled ahead with a solid lead over the fleet. This time the winds favored us and we kept our spinnaker full on the downwind run and made a quick dash for the finish. The rest of the fleet was not so lucky and had to deal with much more fluky winds. After crossing the finish line, we stopped to watch things unfold among the remaining fleet boats on the course. Crewmember David Mcvey and I watched with glee as both Brad Lawson and Marty May managed to get ahead of Jim on the downwind leg; if these places held, Underdog would win and it would preclude a tie breaker.
But, things are seldom as they appear, both Brad and Marty passed just a bit too close to the hill on the east side of the lake next to dam #2. Jim had gybed out toward the middle of the lake. Jim had made the correct move and he caught a new breeze away from the hillside. David and I watched with dismay as Jim was able to just squeeze past Marty and Brad as they were finally getting their spinnakers filled.  It was with great disappointment that we watched Jim march ahead the last 100 yards to finish second. While disappointed, we felt no regret, David and I had raced our best regatta ever and we were still beaten. We can't help but respect the skill and effort it took to win.
While we sailed great to windward on Underdog, Jim and crew absolutely schooled us on downwind sailing and tactics. Any sailboat racer would be well served to study Jim's methods. Well, David and I are good students, we pay attention in class, so watch out Jim.
Congrats to Jim and his crew, Roy Burley and Robert Pincus, for the win at the Carter Open!
I know that I often mention how close the racing is in this fleet, but on Sunday in race 6, after an hour (or more) of nerve racking, intimately close racing around the course, frequently overlapped, with multiple lead swaps, Juiced! and Underdog approached the finish with spinnakers flying in a dead heat. We crossed the line in what appeared to be a tie. RC sounded two finish horns in quick succession. Neither of us had any idea who finished first. After hailing the RC boat about who won, and a brief pause, they announced "19". Juiced! had grabbed the win in the final microseconds of the race by mere inches. As I congratulated Jim, he said that he felt like he had aged 19 years in that race; I had to concur with that feeling. This was the closest race in which I have had the pleasure to participate since I started sailboat racing. I won't soon forget it.
I realize that this report, and many others, focused on the leaders in the regatta. But since I was involved in the action I was unable to see what was happening in the rest of fleet and so I'm unable to report on it. I have no doubt that there was plenty of closely matched racing going on between the other U20s. The separation between the fleet often got extended, but that was due to the on/off nature of the winds at Carter Lake where they are the most challenging of any lake at which Fleet 4 races.
Well, I don't know if it's Eeny's, Meeny's, Miny's or Moe's turn to be "it", but the game continues.
Things are just getting heated up in the 2013 Fleet 4 season. The next event will be the Timberline Regatta at Lake Dillon on June 29-30. This should be an exciting event, likely with high winds and lots of keels exposed for all to see.
Best regards, Cliff Begnaud
Underdog
#126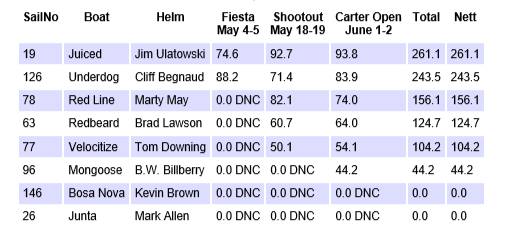 ---
Chatfield Fiesta Regatta May 4 - 5 2013
Fiesta Regatta – Connecting the Dots
By Clifford Begnaud, # 126,
Underdog
As we engaged in the race to get our boats out of the water and un-rigged, Jim Ulatowski congratulated us for "connecting the dots" in the last race. As I pondered his comment, I thought that this was an excellent description of what it takes to win a sailboat race. In many venues, but most especially in Colorado, the "dots" are usually a moving target. We always need a good start, we need to choose the correct side of the course, we need boat speed, we need to point high, we need good tactics and boat handling, we need good mark roundings etc, etc.
Chatfield Lake presented us with many challenges on May 4 and 5, as the wind switched from being favored on the right, to on the left or to the middle. Just when you think you have things figured out, the "dots" move and connecting them gets more difficult.
The first ever Fiesta Regatta at Chatfield Lake was held on the weekend of May 4-5. While three of our fleet had planned to attend, "Ultimately", only two U20′s were in attendance,
Underdog
and
Juiced!
. Because of this we were placed into the spinnaker fleet along with Santana 20′s and Capri 22′s.
Saturday morning started with light winds and pleasantly cool temps. The first race began on time and the light breeze jumped around the lake enough to always keep us moving. Jim and crew on Juiced! did a great job of connecting their dots and won the first three races. Underdog came back and finished before Juiced! in the last two races of the day.
The wind had improved considerably for the last two races, at times gusting over 10 mph. Overall, it was a great day of exciting and very close racing, so close at times that in race 5 we finished overlapped after swapping leads 4 times in this one race. After five intense races, Juiced! carried a one point lead into Sunday.
Sunday morning started with very light breezes scattered around the lake. The J22 fleet started first and sailed off to the right side of the course, but by the time our fleet was ready to cross the start line, that breeze was long gone. We could see a new breeze filling in on the left and decided to sail over to it; Jim and crew saw the same thing. Juiced! made a good start, crossing the start line before Underdog, but they got pinned to the right of some of the other PHRF boats in our fleet. Underdog chose to start closer to the pin end, ducked a Santana 20, and headed left. This tactic paid off and we reached the new breeze first, allowing Underdog to gain the lead.
But Juiced! did not roll over and give up. They continued to attack, and both of us worked hard to connect the dots, with fading breezes on parts of the beat and building breezes in other places. After a highly circuitous route through 4 entirely different breezes to the windward mark, Underdog managed to round in the lead by several boat lengths. With spinnakers set, both boats headed for the finish on port tack, and then the breeze died. It died….. and it stayed dead. The occasional zephyr allowed painfully slow progress toward the finish and finally the smallest of breezes allowed everyone to complete the race.
. Sadly, that was to be the only race for the day and in the end, Underdog connected the final few dots and made a "come from behind" regatta win.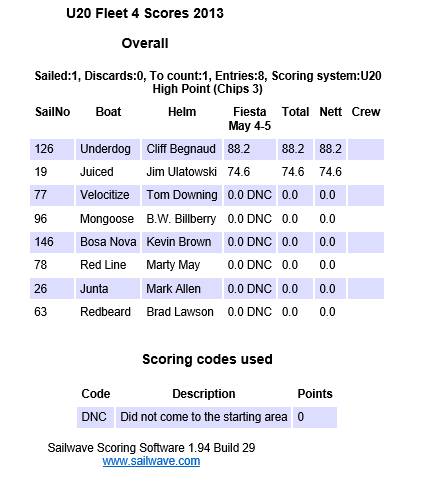 ---
Charleston Race Week April 18 - 21 Was a Blast!
By Emily Jones
and
Brad Lawson
Charleston Race Week, known for great wind, challenging current, excellent race management and southern hospitality, really lived up to its reputation this year with 285 boats, over 3,000 sailors and winds that were rarely under 10 knots and frequently over 25.
Team Redbeard In Action
Eleven U20's registered for this event coming from multiple distant locations including Idaho, Colorado, Michigan, Texas, Georgia, North Carolina, and South Carolina. Geographically, the U20 Class was well represented. DSA's Brad Lawson and crew, Seth McGonigal and Marty May were aboard Redbeard. Jim Ulatowski chartered a local U20 and had Robert Pincus and Katie Jacquemin as crew.
Robert, Seth, Marty, Jim, Katie -- Brad took the picture
Wednesday and Thursday were days to arrive, set up the boats and get some practice in. Thursday evening started with the skipper's meeting where you looked around and saw some serious talent from the pro side of sailing, Ed Baird, Terry Hutchinson and Mark Reynolds just to name a few.
Friday was Day 1 of sailing and the breeze was up. Competitors left the dock in 12-17 knots of wind. It was a little bit hazy and warm so it looked like it was going to be a great day. And it was; although the breeze kept building resulting in many breakdowns. Unfortunately, the first breakdown occurred before the first race even started. Chris Chambers and crew had their mast come down after a practice spinnaker set. A couple of boats (including Jim Ulatowski) broke jib halyards and tried to get back out after completing repairs, but with the breeze gusting over 30, only Brad Lawson & BJ Jones finished the last race. In fact, the wind was blowing so hard, both boats sailed the last windward leg with just mainsails.
Saturday, while gray and chilly, saw some more reasonable breeze, starting out about 15 knots for races one and two and laying down to 10-12 for the last two. Close racing and terrific competition. The four races saw three different winners and Keith Ziegler won the day with a 3, 1, 2, 1.
The final day saw a return of the big breeze with a Gale warning from noon on. Boats left the dock with about 15 knots, but about half way to the race course a line of wind hit at over 25 knots with more coming. The Race Committee wisely canceled racing for the day. It was a long beat back to the slips in 30 knots, with puffs gusting to over 40.
With no races on Sunday, that left Saturday's leader as the winner of the regatta. BJ and Emily Jones from Lake Norman, sailing with Angie Wiggins, won with a score of 1,1,1,(5),2,1,2. Brad Lawson from Colorado was second sailing with Marty May and Seth McGonigal. Phillip Davis from Texas, sailing with Mark Green and Steve Noury, finished third. Charleston is known for its "southern charm" and Race Week is famous for its hospitality. Each evening featured a giant beach party for the sailors and their support crew. Music, food, unlimited Goslings Rum and great camaraderie provided a fun way to unwind and re-hash the day.
Team Redbeard - 2nd Place
---
2013 San Diego NOOD - U-20 Regatta Report
By Brad Lawson
Connecting the Dots Proves Challenging for DSA U20 Crews
Being a successful one-design buoy racing team requires an intuitive knowledge and exceptional sailing skills to make sense (and use) of light to moderate, shifty and puffy wind conditions efficiently. Many that enjoy this sport call this aptitude "connecting the dots." The importance of this aptitude being never more evident at this past weekend's 2013 San Diego NOOD (National Offshore One Design) regatta.
In contrast to the 2012 San Diego NOOD Regatta event, when a storm included waterspouts and hail, this year's races went off under more seasonal weather conditions that included morning fog, partly cloudy skies, and light to moderate winds out of the WSW, West and NW. The overall regatta drew more than 1,000 sailors in crews featuring all men, all women and mixed.
Three local yacht clubs serve as host venues for the annual event—San Diego, Mission Bay and Coronado. Coronado hosted the U20s, Vipers, Flying Tigers, I14, Catalina 37, and Buccaneers.
Nine U20s - including four from Mountain States Utah and Colorado — hit the water for the three-day event held over St. Patrick's Day weekend.
DSA owner/skippers entered these boats:
Brad Lawson's Redbeard
Jim Ulatowski's Juiced!
The U20 class was won by Los Angeles based Michael Eisenberg's Toon Town. The Toon Town team sailed extremely well throughout the weekend seemingly always in the right place at the right time in the light and variable conditions. Past DSA member (now sailing out of Great Salt Lake YC) Mark Allen and Colorado crew Katie Jacquemin and Peter Sharp finished second and also sailed efficiently in the challenging conditions. Jim Ulatowski's Juiced! and Brad Lawson's Redbeard finished a respectful 4th and 5th.
Ultimate 20 – 2013 San Diego NOOD - Course C (South Bay) Racing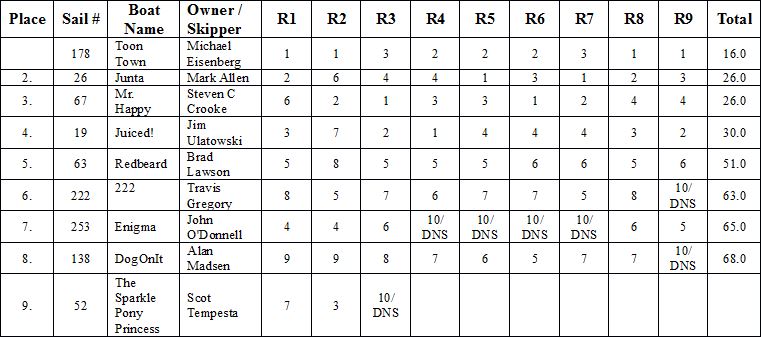 Some of our road warriors are hitting the road this Spring to compete in out-of-state regattas:
Brad Lawson and Jim Ulatowski roll west to San Diego for the Sperry Topsider NOODS regatta held March 15-17th. Brad along with crew Taylor Martin & David McVey are getting Redbeard dusted off and ready while Jim has recruited rock star sailmaker Tac Boston to join he and Robert Pincus aboard Juiced! It's California dreamin' time! Here is Brad Lawson's 2013 San Diego NOOD Regatta Report.
Jim Ulatowski and crew are headed to South Carolina to compete in the Charleston Race Week April 17 - 20. Jim is chartering a local U20 rather than trailer Juiced! the zillion r/t miles. Brad Lawson is sailing with Seth McGonigal and Marty May aboard Redbeard. Over 10 U20s are expected to participate in this three day event. Good luck lads!
The U20 North American Championships are being held in Marina Del Rey, CA this year. Skippers Brad Lawson, Jim Ulatowski, Marty May and Cliff Begnaux are expected to compete in the three day event, Sept 15-17.
The 2013 Fleet 4 'Paget Cup' Championship Series gets kicked off at Chatfield Reservoir in May. CSYC hosts its first Chatfield Open which replaces the club's annual Leukemia Cup. Other notables include a couple of added Dillon YC regattas and the deletion of the Wyoming Governor Cup.
2013 Fleet 4 'Padget Cup' Championship Series
| | | |
| --- | --- | --- |
| Date | Event | Location |
| May 4-5 | Chatfield Open CYSC | Chatfield Reservoir, CO |
| May 18-19 | Rocky Mountain Shootout DSA | Cherry Creek Reservoir, CO |
| June 2-3 | Carter Open Carter Lake YC | Carter Lake, CO |
|  June 29-30 | Timberline Regatta DYC | Dillon Lake, CO |
| July 14-15 | Aspen Open AYC | Ruedi Reservoir, CO |
|  August 4-5 | Dillon Open DYC | Dillon Lake, CO |
|  August 24-25 | Peak Seven Regatta DYC |  Dillon Lake, CO |
|  Sept 22-23 | Colorado Governors Cup DSA |  Cherry Creek Reservoir, CO |
|  Oct 9-10 | Columbus Day Regatta CYSC |  Chatfield Reservoir, CO |
---
Team Redbeard sweeps the PHRF A Class at the Chatfield Columbus Day Regatta!
By Brad Lawson Skipper, U-20 # 63,
Redbeard
October 8, 2012
The Columbus Day regatta this weekend was fun although a bit chilly on Saturday [with a high temperature of 34 degrees, overcast skies, occasional light drizzle, and northerly winds at 14 MPH, and snow falling during the third race], and much warmer on Sunday.
RC got 3 races completed the first day and two on the second day. Throughout the weekend the wind never got above the low teens. Sunday experienced more sun but less wind. I believe there were 4 J22s, 2 Santana's, 1 U20, 1 McGregor, 1 Catalina 27, 1 J24, and a few other OOAKs. Redbeard was the only boat from DSA.
The first sequence included the J22s, the Santana's and my U20. Of the five races, Redbeard was first to finish in three of them. We finished second and third in the other two races due primarily to late starts.
Sailing in the PHRF A Division, Redbeard sailed against the two Santana's and finished first on corrected time with five bullets. Seth McGonigal and junior racer Cameron Holland crewed on Saturday and David McVey and Cameron on Sunday.
---
Colorado Governor's Cup September 22/23
By Cliff Begnaud
Skipper, U-20 # 126
Underdog
The scheduling of the 2012 Colorado Governor's Cup in late September brought visions to our eyes of steady autumn winds.  But that was not the case for the four U20's attending this year's event.
Saturday's racing was delayed for half an hour due to a lack of wind. But when the wind finally filled in, it hung around and was sufficient to complete 5 races.  The conditions were typical; light with shifty breezes that were spotty and found in lanes across the lake.
In the first race, Brad Lawson on Redbeard pulled a maneuver very similar to the one at the Aspen Open -- he took a circuitous route completely around the rest of the fleet, found a nice breeze and passed the other boats by a considerable margin to take a win in race # 1.  The rest of the day saw Marty May and Jim Ulatowski exchanging first and second places, with Brad and yours truly fighting for third. After five races, Jim and Marty were tied with 6 points each, Brad was in third place with 12 points and Underdog trailed the fleet with 13 points. Not making mistakes, and having only two crew aboard, was a definite advantage in the light winds.
On Sunday morning, it was obvious that the day's racing would be split into two separate match races: Juiced vs. Redline, and Redbeard vs. Underdog.  And that's exactly what happened in the one race that our Race Committee was able to run.  On the very first beat to windward, Jim and Marty went left; Underdog let them go, in order to cover Redbeard on the right side.  There was no way that either Brad or I would catch up 6 points on this light air day of racing, so it truly was a day of match racing. The wind  died after we finished the race and, other than the occasional teaser breeze that  would pass through, the wind never filled enough to start another race.
Most unusual was that there was not a single protest brought to committee from any boat all weekend. Perhaps the dissipation of the summer heat has tempered us sailors 😉
Most competitors stayed around on Sunday afternoon in anticipation of  winning something from the very large collection of raffle items.  Marty appeared to have drawn a lucky batch of raffle tickets as it seems he  had a winner ever few minutes.  But, that was nothing compared to the  junior sailor, Austin Williams, who cashed in over 15 winning raffle tickets!  He hardly had a chance to sit down.  At the end of the raffle drawings, the Papa John's pizza arrived and we washed it down with plenty of Dry Dock draft beer. Yum!
The Denver Sailing Association put on a great event that was well organized and well staffed. The food and drink at the Saturday evening party were great . Many thanks to DSA Commodore Jim Ulatowski and all the volunteers that made it happen.  The trophies this year were a set of glass coasters plus a bottle of wine for 1st place, very nice!
Congrats to Marty May on his U20 fleet win in the 2012 Colorado Governor's Cup.
This year the overall Governor's Cup Keelboat Trophy went to Randy Shelton on the  Capri 22 Pretty All Right. The event also hosted a special group, the Air Force Academy Sailing team. These young men all raced on Club 420 Dinghies.
I hope to see you in two weeks at the Columbus Day Regatta.
---
DSA boats dominate the U-20 action at the Dillon Open August 4 - 5
Five DSA U-20s traveled to Lake Dillon for the 2012 Dillon Open Regatta, leaving a huge void in the Cherry Creek Marina parking lot, but making a big presence known on Lake Dillon. Read more here.
---
The  2012 Aspen Open brought  flat calm followed by wild winds and much rain to the 8 competing U-20s.
Eight regional U-20s drove to Ruedi Reservoir near Aspen, Colorado for the 2012 Aspen Open.
Read more here
.
---
Light Winds Test U-20 Fleet at Carter Lake Regatta
Marty May's Redline takes top honors
June 4, 2012 By Brad Lawson
With warm weather and good wind throughout the start of the spring season, something was bound to give and it did this past weekend. The warm weather remained, but the winds did not, as boats struggled to get racing in for the Carter Lake Regatta especially on the first day of a two-day regatta.
The Carter Lake regatta is an annual event hosted by Carter Lake Sailing Club, where it hosts one-design and PHRF fleet racing for various classes of keelboats. This year the U-20 fleet had five entries, Juiced, Mongoose, Redbeard, Redline, and Velocitize.
The timing and importance of the event always draws top competition and most of U-20 Fleet 4 were entered again this year to see what they have heading into the summer regatta season. Unfortunately, the wind never topped five knots on Saturday and only two races were completed per division. Race Committee sent boats to the docks for what turned out to be a two-hour postponement because of a severe thunder and lightning storm that moved in over the lake.
On Sunday, and with better winds, the race committee got the most out of the conditions to complete four races per division. Final results had Marty May's Redline finishing 1st, Jim Ulatowski's Juiced claiming 2nd (just one point behind), and Brad Lawson's Redbeard taking 3rd place. Tom Downing, Velocitize and B.W. Bilberry on Mongoose were 4th and 5th respectfully.
Competition throughout the weekend was tight and with the light and variable winds no boat was ever really out of any one race.
CLSC Final Results for Fleet = U20

Sailed:6, Discards:0, To count:6, Ratings:PHRFTOT, Entries:5, Scoring system:RRS Low Point

Rank

Fleet
Boat
Helm
SailNo
Crew
Rating

R1

R2

R3

R4

R5

R6

R7

Total

Nett

1st

U20
Red Line
Marty May
78
159

3.0

1.0

3.0

1.0

1.0

2.0

11.0

11.0

2nd

U20
Juiced
Jim Ulatowski
19
159

4.0

2.0

1.0

3.0

2.0

1.0

13.0

13.0

3rd

U20
Redbeard
Brad Lawson
63
159

2.0

3.0

4.0

2.0

4.0

3.0

18.0

18.0

4th

U20
Velocitize
Tom Downing
77
159

1.0

4.0

5.0

4.0

5.0

DNC

25.0

25.0

5th

U20
Mongoose
BW Bilberry
96
159

5.0

5.0

2.0

5.0

3.0

DNC

26.0

26.0
---
2012 U20 North American Championships May 18 - 20
By Brad Lawson
Never let it be said that Pensacola, Florida cannot deliver three consecutive days of perfect U20 sailing conditions. The Chamber of Commerce went all in for this year's North American Championship and for those of us who took the challenge and traveled the 1,500 miles to Pensacola in May, we were not disappointed.
In fact, twenty one U20s found their way to Pensacola for the 2012 North American Championship Regatta. Three of those teams were from DSA's own U20 Fleet and included skippers Jim Ulatowski (Juiced), Brad Lawson (Redbeard), and Mark Allen who chartered a boat from North Carolina.
In Pensacola Bay in the late spring/summer there is typically an E-SE gradient breeze in the mornings (4-7 kts) which gives away to moderate sea breeze (8-15kts) at noon each day unless there is an overpowering weather system nearby. This weather pattern proved true to form. After the sea breeze finally won its daily battle and brought favorable wind, the race committee was able to get nine races in over three days. The entire regatta was raced on windward leeward courses.
While the sea breeze remained remarkably consistent small shifts had to be managed well with respect to the rest of the fleet and the next oscillation. RC set a beautiful racecourse and the fleet sailed races that were between 45 and 60 minutes. The chop and current conditions were mixed throughout the weekend and forced all competitors to concentrate not just on boat speed but also on the numbers as there were favorable shifts to be found and capitalized on. Racing was tight the entire three days. In the first 8 races, all boats finished within 2 minutes of one another.
The teams from Colorado had their moments. Mark Allen and crew Marty May and Peter Sharp showed excellent speed throughout the championship and if they had sailed the first two days like they did day three (a 1st & 2nd) this team could have jumped into this year's winner's circle.
Always in the hunt, Jim Ulatowski and crew David McVey and Robert Pincus, were top ten finishers.
Brad Lawson, Seth McGonigal and local Pensacola sailor Mas Azuma finished 15th. While the crew did a great job in catching up with the fleet, a too aggressive skipper had us over early at the start in at least two races, said Lawson. Wait until next year, he added. In the end the usual suspects found their way to the lead in most races. Jim Pearson, Tac Boston, Michael Eisenberg, B.J. Jones, and Keith Ziegler picked their way to the front with excellent upwind driving and downwind cunning. Local sailor Billy Ellis and crew were never far behind either. Although Jim Pearson and Tac Boston battled it out until the last day, Jim Pearson and his crew Brad Boston and Eric Vigrass were crowned the 2012 North American Champions! They sailed with the most consistency throughout the three days and put together a score line that would not be beaten.
A huge applause goes to the Staff and RC at Pensacola YC for putting on such a terrific event. Next year's championship event heads to the West Coast.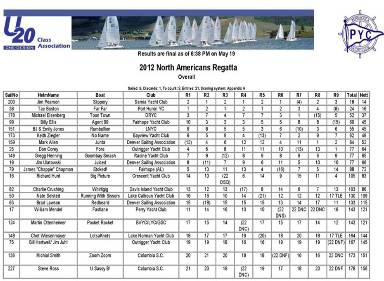 ---
U20 – Redbeard finishes 1st Overall at 2012 San Diego NOOD!
DSA's Brad Lawson and tactician Seth McGonigal arrived back in Denver last week after receiving 1st Overall in the Ultimate 20 fleet at the 2012 San Diego NOOD, March 16 - 18. Amanda Chen, an experienced U20 sailor from So Cal trimmed from the forward position.
At a three day regatta that experienced plenty of wind, rain, and hail, Redbeard was able to move past a local U20 and stay ahead of second place boat DogOnIt from Utah.
While the first day was sailed in 10-15 knots of wind under beautiful blue San Diego skies, the second and third day were completely different stories. First day results found Redbeard in second place behind a L.A. boat, Mr. Happy.
After most boats got to the race course on Saturday, RC decided to cancel all races due to extreme wind conditions (25-35+). This was the definitely right decision as boats from the 505, International 14, Viper, and U20 fleets found the wind and chop conditions in San Diego's South Bay nearly impossible to sail.
The third and final day brought more wind and hail and many boats from various fleets including Mr. Happy decided against sailing and started packing up. With a prediction for dissipating wind in the afternoon, RC motored out, determined to get some races started for the boats wanting to sail. Under a reefed main and only periodic use of the jib, three U20s completed two races.
The sailing venue in San Diego bay is spectacular and the host yacht clubs from San Diego and Coronado do a great job. "We can't wait to get back there next year to defend our title," said Lawson.
Well done, Redbeard!
---