Rocky Mountain Lightning Fleet # 488

2012 ILCA Fleet of the Year
Last updated 05/17/2013
About the Lightning
The Lightning is a 19 foot trailerable centerboard sloop originally designed by Sparkman and Stephens as an affordable family day-sailor and racing boat. She has evolved into one of the most popular and competitive one design racing classes in the world.
The Lightning's rig is simple, but offers sophisticated sail shape controls. The hull's unique hard chine design combines stability and sail-carrying power with flat bottom sections that promote planning. A large spinnaker transforms the boat when the wind picks up. For a crew of 3, the boat presents interesting boat handling challenges in higher wind conditions.
Read more about crewing on a Lightning.
About Fleet 488 In Colorado
The Rocky Mountain Lightning Fleet sails with DSA at Cherry Creek Lake in Denver and at regional regattas throughout Colorado, Wyoming, and Nebraska. Fleet 488 members located north of Denver also sail at Union Reservoir. For more information, contact
David Thompson Fleet 488 Fleet Captain
703-472-2470
Lightningcaptain@denversailing.org
and see recent Fleet 488 Newsletters.
Membership
To join Fleet 488, go to the website of the International Lightning Class Association and become a member, either as an Active (boat owner) Member; an Associate Member; or a Crew Member, selecting the US@Large District and Fleet # 488. To join or to renew your membership on line, go here. Here are the current Fleet members. The Class Association provides a valuable service for Lightning skippers and crew, with a wealth of information about Lightning events world-wide. Check out the ILCA website if you have not done so already.
Skippers – need crew?
Check out our Lightning Crew Connection  page that lists sailors interested in crewing on a Lightning.
---
– Upcoming Events –
---
– News –
---
2013 DSA Spring Series # 2, Thursday, May 16
Five Lightnings were out on a beautiful evening for sailing – Teams Davis; Cabrall; Stoller; Dandy Lion, and Thompson.  Winds were from the ENE in the range of 5 – 10 MPH with occasional higher gusts, and the air was comfortable warm.  The first race was on a short windward-leeward course with ten boats in an OOAK start on a relatively narrow start line.  The second race gave Lightnings their own start on a 1 – L course, and the third race also gave Lightnings their own start on a 1 – 7 course.  The top two finishers in each race were, as we might expect, teams Davis and Cabrall. Third place swapped between Teams Stoller and Thompson.
In the third race, Team Thompson did a disaster recovery drill when the spin halyard slipped out of  the cleat during a gybe and the chute fell below the boat.  Quick work by forward and middle crew recovered the chute, untangled the sheets, and got the chute up and drawing again in fairly short order; unfortunately the team thought the course was still 1 – L and sailed for the hippity-hop that was the leeward mark for the previous race.  When they saw the other four boats sailing towards the marina, they thought at first that they had already finished and were heading home, but when they saw the boats rounding mark # 7, it dawned on them that the course was different from what they thought!  So they executed a mid-course correction, but alas were too far back to regain their position, and finished last.
In the "battle of the foredeck crews," suffice it to say that the score went to Christine, 3 – 0.
---
Lightning 11446 is for sale! $1,000 OBO.

Here is more information.  Contact Bob Stoller to negotiate a purchase.
---
2013 DSA Spring Series # 1, Thursday, May 9
After a second day of heavy rain with thunder and lightning, it was not surprising that only two teams showed up to race — one Santana team and one Lightning team.  And it was no surprise that the one Lightning team was team Quest — Bill, Raeyane, and Christine.  However, RC (Norm Jarvis, David Thompson, Rob Merritt) discussed the situation with team Quest, who decided not to sail,  and so canceled racing for the evening.  Read more here.
---
2013 DSA Thaw-out Series # 5, Saturday, May 4
Finally we got a Thaw-out Series race day with wind!  granted, it was puffy, with winds in the range of 5 – 10 MPH, and occasional gusts to 15, along with a few no-wind holes, but still, much better than the previous 4 race days in the series.  Three Lightnings were out — Teams Spira, Cabrall, and Thompson, with Dave Spira again sailing Steve Davis' boat, with Philip Ryan and Dawn Darling on board.  We had a repeat of "the battle of the foredeck crews," with Christine Merritt on board the Cabrall boat (with Raeyane as third) and Rob Merritt on board the Thompson boat (with Mike Taber as third), and this time the Cabrall boat beat the Thompson boat in all three races, although it was neck-and-neck racing in the final leg of race 1, with the Cabrall boat sneaking ahead for good halfway to the finish line.  Dave Spira, as usual was way ahead in all three races. Read more here.
---
2013 DSA Thaw-out Series # 4, Saturday, April 27
Lightnings again comprised half the turnout on yet another light air day in the Thawout series. David Spira was again there, sailing Steve Davis' boat, with Bill Darling and Bill's son as crew; and Al Gawthrop made his first appearance in the Thawout series, sailing with son Jordan and brother-in-law Craig Bouck.  Teams Thompson and Cabrall rounded out the foursome, with Raeyanne Farrell and Christine Merrit on board Quest, and Rebecca Bevrit and Rob Merritt on board Blue Two, setting up a historic competition, between foredeck sailors, of Merritt vs. Merritt.  The final score on that one was Quest 2, Blue Two 1, but David Spira won the day on standings.
---
Toby Hamer Flips His Lightning!
No, not on the water — in the back yard of Toby and Mika's new home near 9th and Pontiac in east Denver.  Toby and his father David purchased wooden Lightning 12015 from Bill Cabrall earlier this spring, with the intention of filling in the minor cracks in the bottom and on the transom before splashing the boat for the upcoming DSA Spring series.  So they hauled it on the trailer to the back yard of the new house, knowing that they would need to recruit a crew of at least 7 DSA members to remove the boat from the trailer and place it upside down on sawhorses so that the bottom was easily accessible for the crack patching.
And recruit successfully they did, with Roy Burley, Richard Allen, David Thompson, Brandon Kass, Jim England, Toby and David Hamer on hand to perform the flip.  They slid the boat to the left, sideways, on the trailer until the starboard chine was aligned with the center-line of the trailer, then lifted the boat up so that the starboard topside and then the starboard gunwale were on the right side of the trailer, resting on the trailer bunks.  Then all but two of the lifters moved from the left side to the right side of the trailer to catch the boat as it the continued its clockwise roll.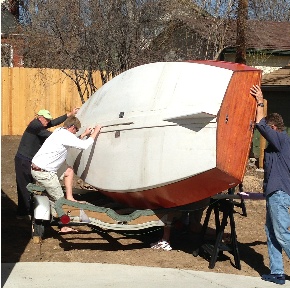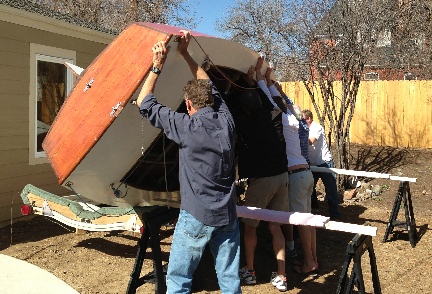 Once the boat was upside down, they lifted it off the trailer bunks and onto a set of sawhorses placed strategically alongside the trailer.  The whole process took less than 15 minutes.  Bill Cabrall arrived a few moments later, happy to see the result.  Photos coming soon.
---
2013 DSA Thaw-out Series # 3, Saturday, April 20
Lightnings comprised more than half the turnout on another light air day in the Thawout series. David Spira, sailing with Philip Ryan and guest Nicholas Hayes sailed on 15265, Steve Davis' boat;  Teams Quest; Evenstar; and Dandy Lion were also on the water, and we had an all-Lightning RC (David Thompson and Pete Horsch) to boot. Also on the water were one Santana, one U-20, and a JY. Unfortunately Dandy Lion missed the start of the first and only race, and Team Evenstar crossed the finish line more than 30 minutes after the first boat crossed.  Team Quest stayed on the course after the race and got in some spinnaker practice.
---
2013 DSA Thaw-out Series # 2, Saturday, April 13
Only one Lightning raced on April 13, one of three dinghies and three keelboats out on a comfortable-temperature, mostly light air day, but four Lightning skippers and three crew were involved.  Skipper David Thompson was at the helm of 15228, with Skipper Norm Jarvis on board; Skippers Bill Cabrall and Jacob Vargish were on the Committee Boat, along with crew Raeyane Farrell and Andrew Vargish.  Kai Thompson, on board 15228, was the third crew on the water.  Read more here.
---
2013 DSA Thaw-out Series # 1, Saturday, April 6
We had partly sunny skies with a high overcast and pleasant temperatures in the mid 60s, with light and variable winds, for the first race day of the 2013 DSA racing season.  PRO Darek Buczynski and assistant Philip Ryan set a 1 – 5 course and got off three races for the dinghies and four for the keelboats in winds that changed direction, sometimes as much as 180 degrees, frequently. Three U-20s, one Santana, two Lightnings, one 420, and seven Lasers were out.  In the Lightning division,  Bill Cabrall, sailing with Raeyane and Christine Merritt took a first and two seconds, while Team Davis — Steve, Jan, and Francine Hoffman — took two firsts and a second.  Skippers England, Jarvis, and Thompson were on site setting up their boats, but elected not to sail.
---
Saint Pete Plus 7 – a Post-Circuit Lament – by Bill Cabrall
Bill Cabrall published this poem in the April 1 edition of the ILCA Flash Blast emailed newsletter.  Well done. Bill!  We nominate you to be Poet Laureate for ILCA!
---
2013 Southern Circuit Results
Teams Davis, Cabrall, and Thompson sailed the 2013 Lightning Southern Circuit the week of March 9 – 17.  Steve and Jan Davis flew into Savannah and chartered a boat from Laura Jeffers, and sailed with Laura and Brian Hayes.  Bill Cabrall drove the northern route and picked up Raeyane at the Nashville airport and picked up Jim England at the Savannah airport.  Teams Davis and Cabrall sailed the entire circuit.  Barb and David Thompson drove to St. Pete the last week in February where they stayed for an entire month in a rental condo.  They headed down to Miami on March 11 to meet up with Rob Merritt who had flown in from Denver the night before.  Team Thompson sailed Miami (but only one race there) and all races in St. Pete.
Results: Team Davis placed 9th out of 26 boats sailing the entire circuit, and Team Cabrall placed 22nd.  In Savannah, Team Davis placed 5th and team Cabrall placed 35th out of 41 boats. In Miami, Team Davis placed 20th; team Cabrall 32nd, and team Thompson 44th out of 44 boats.  In St. Pete, team Davis placed 16th; team Cabrall 36th; and Thompson 50th out of 51 boats.  In the St. Pete Masters, team Davis placed 3rd; team Cabrall 14th; and team Thompson 22nd out of 23 boats.  Here are complete results.
---
2012 ILCA Yearbook (covering the 2011 sailing season) Has Arrived! 
It's here!  The 2012 ILCA Yearbook, covering the 2011 season, arrived in our mailbox today – the CD version – and it brilliantly highlights the season.  You'll enjoy Bill Cabrall's humorous and complete Fleet 488 Report - read it here!
---
Fleet 488 End-of-Season Banquet — Saturday, January 19, 2013

At the home of Steve and Jan Davis.  All Fleet 488 members and guests were invited, as were all current and prospective Colorado Lightning sailors — skippers and crew — interested in joining the fleet.  The party was from 6:00 PM to 9:30 PM, with dinner, drinks, and social activities, followed by a short business meeting.  The main course for dinner was provided by our hosts; the attendees were asked to bring either beer & wine or salads or desserts, as determined subsequently by a poll of the respondents.
Twenty Fleet members and friends  had a most enjoyable evening, and lingered well past the scheduled ending time to socialize with members they had not seen since the end of sailing season in October. At the business meeting, David Thompson was re-elected to the post of Fleet Captain and Jan Davis was elected to the post of Fleet Secretary. Fleet Captain David Thompson reviewed the highlights of the 2012 season, including the awards given at the 2012 DSA End-of-Season Banquet.
---
Fleet 488 2013 ILCA Yearbook Report Draft is posted!
A first draft of the Fleet 488 2013 ILCA Yearbook report (covering the 2012 season) is posted on our file server.  Check it out, and please send feedback to our Fleet Captain.
---