Attention All Junior Sailors...
Are you ready to Race?

The Denver Sailing Association and
Community Sailing of Colorado
provide a great environment for Junior Sailors to test their skills on the racecourse. Our
Junior Race Team
sails out of the Cherry Creek Marina & Yacht Club from April through October. All Juniors are encouraged to participate in the DSA Wednesday & Thursday Night Races during the summer months to compete against sailors of all levels. From novice to racer, we have a program for you!
Who Can Get Involved?
Dedicated young sailors with an interest and commitment in developing racing skills.
What We Do...
Build sailing skills, develop teamwork and boost confidence through practice and regattas.  We represent Community Sailing of Colorado and the Denver Sailing Association by sailing fast and having fun!
BOATS WE ARE RACING ON...
Optimist Dinghies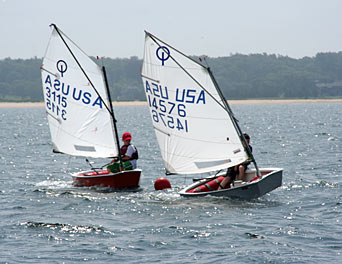 An Opti is the most popular one-design sailboat in the WORLD!  More than that, it's a great boat for kids to learn in.  Many of the world's best sailors started out in Optis.  Optis are best for kids up to 15 under or close to 100lbs.  Learn more at www.usoda.org
Lasers
The Laser is one of the most popular single-handed dinghies in the world.  There are three different sizes of sails administered by the International Laser Class Association.  Sailors start out with the 4.7 rig, move to a Radial sail, and men will move into the Standard full.  The Laser is a very athletic boat and competes in the Olympics.  More at
www.laser
international.org/
Club 420s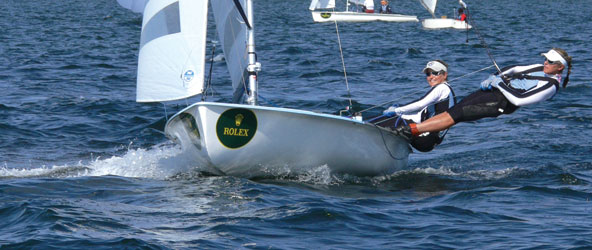 420s are a 14 foot double-handed racing sailboat.  Club 420s are the standard boat for high school and college competition.  These boats are lots of fun and can be sailed with spinnakers and trapeze once the basics are mastered.  If you're adventurous and don't mind getting wet (or flipping), try a 420.  Check out Club 420s.   More at www.club420.org.
---
SAIL Junior Regatta Rules:
---