---
Welcome Cecelia Mae Hamer, born November 27, 2014!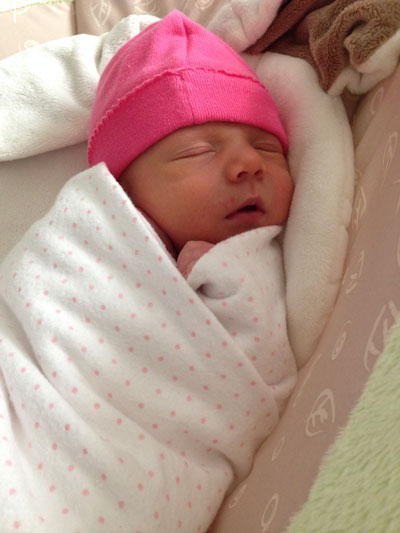 Toby and Mika were please to announce the birth of their daughter -- their first child -- Cecelia Mae, at 6:30 AM on Thanksgiving Day, November 27. The parents and Cecelia are both doing well, and DSA is looking forward to meeting its newest Junior Member.
---
69 DSA Members and guests enjoy the DSA Annual 2014 Awards Banquet November 8
On Saturday night November 8, DSA held the year end banquet at the Cherry Creek Marina and Yacht Club. Sixty nine DSA members and their families and friends joined us in a night of celebration.
The night started out with our guests enjoying appetizers, complimentary Dry Dock beer, wine, and great camaraderie and of course sailors and their sailing stories. As the evening progressed we all enjoyed a great dinner provided by our caterer "A Perfect Bite" that did another outstanding job in providing us with an excellent meal.
After our guests had dinner we started into our year end presentation and slide show. The presentation recapped the year's activities that included our regattas, series racing as well as our social events. Here is a write-up of the activities and events identified as the highlights of the season. The presentation was followed by the Annual Meeting and then by the presentations of our perpetual awards and awards for our series racing results for the year.  The Awards can be found here, with details on the website, at http://www.denversailing.org/home/series-racing/scoring.  In the Annual meeting, the current DSA board members were given ditty bags, created by Julie and Curtis Rist, made from the re-purposed (and slightly worn) signal flags from the now-retired set # 1.  Then, a voice vote elected a slate of candidates for the 2015 board, as follows:
Commodore: David Thompson
Vice Commodore: Glenn Hackemer
Rear Commodore: Curtis Rist
Secretary: Barb Thompson
Treasurer: Steve Davis
Social Director: Kristen Kies
Race Committee Chair: Tom Downing
Scorekeeper: Julie Rist
Webmaster: Dan May
Junior Coordinator: Brandon Kass
Newsletter and Website Editor: Jan Davis
Members at Large: Joe Beierl; Tex Poor
Fleet Captains: Brad Lawson; Geoff Zaun; Bill Cabrall; Kurt Robinson,
Vacant: Port Captain; Groundskeeper
We wrapped up the night catching up with everyone and enjoying some good times as we head into winter and start to look forward to another great sailing season in 2015. A special thanks goes out to Barb Thompson and Curtis and Julie Rist, who organized and put together another great Banquet.
---
DSA Fall Workday September November 1
Thanks much to the seventeen DSA members who came out for the 2014 Fall Workday last Saturday!  Under mostly sunny skies, with temperatures in the high 60s, we made quick work of the identified tasks, and finished by 1 PM.
 Toby Hamer, Philip Ryan, and Tex Poor were the first to arrive; Toby and Philip headed out on the Mako and retrieved the eight racing marks, one at a time, pulling the muddy and heavy cement block anchors off the bottom and returning the buoys and anchors to the DSA dock, where Tex, Mike Mckeever, Larry Arbuthnot, Ray McCleery, and Mark Tasker took turns, three or four at a time, carrying the wet, dirty, and heavy loads up to the fence behind the clubhouse.  When the RC buoy and its anchors were unloaded, it took all five unloaders, plus Steve Davis, to haul the load to its resting place.  But the work went quickly, and Toby and Philip were finished by 11 AM, after which they drove the Mako over to the west launch ramp and hauled her out on her trailer.  In the intervals between unloadings, Tex, Mike, Larry, Ray, and Mark folded the picnic tables, stacked them against the clubhouse wall, and covered them with a tarp.
In the meantime, Steve Frank, Bill Cabrall, Fred Wolf, Jim England, Jan Davis, Barb Thompson, and Julie Rist had appeared and gone to work.  Barb and Julie emptied out the clubhouse and then cleaned it top to bottom, leaving the final step, mopping the clubhouse floor,  for Mark Tasker who willingly grabbed the mop and cleaned the rather dirty floor for the grand finale. Barb in the meantime had worked her magic on the refrigerator and freezer, freshening and sterilizing it with Simple Green and then Pine Sol.
Steve Frank, Bill, and Fred became our paint masters, along with Steve Davis, and they brushed and sanded the green wood trim around the windows and door and clubhouse corners, and re-painted it; they also sanded the picnic table that had gotten blistered in the September 29 hailstorm, and painted it a fresh baby blue.
Jan Davis was our groundskeeper for the day, digging up weeds and dumping them in the trash, while Jim England took three hours to sweep and shovel the tarmac and dig up weeds on "Lightning Row," revealing the clean pavement there we had not seen since spring.
Scott Boughton arrived just in time to get the dirtiest job of the day, disassembling and de-greasing the gas grill that had two year's accumulation of cooking residue, a task that took until quitting time. But with help from Tex and Julie for the finishing touches, we got a nice clean grill ready for next year.
After Toby and Philip got the Mako hauled out, they took it over to the driveway by the crane, Where Toby and Julie emptied it out, and then Toby proceeded to clean the lake scum from the bottom and then wax and polish the topsides, with help from Tex, who was everywhere he was needed over the course of the day. Toby and Tex were the first to arrive in the morning and, with Julie, the last to leave in the afternoon.  Work activities were coordinated on site by Vice Commodore David Thompson.
Commodore Curtis Rist and Member Joe Beierl stopped by after the conclusion of the SAIL meeting; unfortunately by then the DSA work was finished, so they didn't get an opportunity to work.  But they played an important role in representing DSA at the SAIL meeting, where they presented a proposal for DSA to host the 2015 Colorado Governor's Cup regatta.  More about that soon.
---
DSA Fall Frostbite Series September 27 - October 25
We got in sixteen races on five race days for a total of 25 boats.  Unlike previous Fall Frostbite Series, we had warm and sunny conditions with gentle winds on all five Saturdays.  The last Saturday, on October 25, had the best wind -- beautiful southeasterly breezes at 5 – 10 MPH, with occasional gusts to 14, blew across the lake in a steady flow all afternoon. What a great way to end the 2014 sailing season.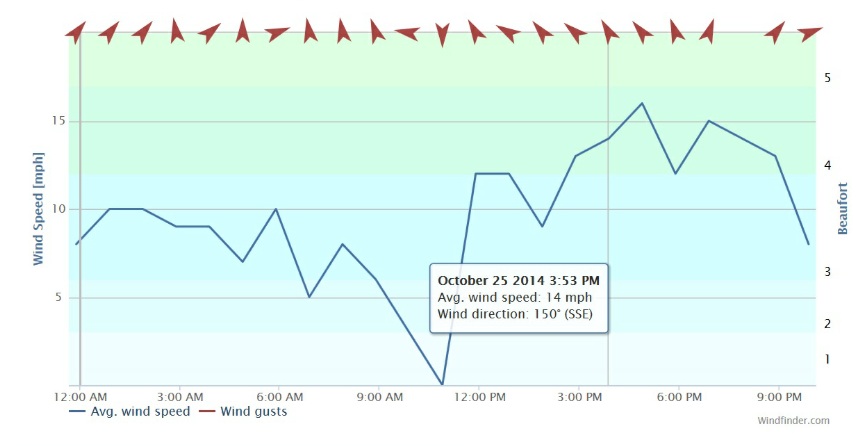 On that day we sailed four races — three of them on the 3 – 7 course, and the last on on a 3 – F course, with a downwind finish, that let us continue on in to the marina with chutes up. Winds were relatively steady with occasional bursts above 10 MPH, and almost no no-wind holes.
For the series, in the Laser fleet, Kurt and Kent Robinson and Brian Seim took the top three places in the standings; for the Portsmouth-scored dinghy fleet the top 3 places were taken by Dan May in his Buccaneer; Philip Ryan in his Swift Solo, and David Neely, also in a Bucc. Bill Cabrall, Jacob Vargish, and Bob Stoller were the top 3 in the Lightning fleet, while Mike McKeever in his Santana; Jim Ulatowski in his U-20, and Steve Frank in a J/22 were the top three finishers in the PHRF fleet.
---
DSA Frostbite Regatta September 20/21
Racing Recap
Day 1
Saturday was a warm day with bright sunshine, and after the 11 AM competitors meeting, Race Committee (Paul Kresge, Julie Rist, Denise Chinburg, Philip Muller, Tex Poor, and John Kitter) headed out to the RC buoy, followed by 34 boats, eager for a day of competition on the water. The only thing missing was wind.
There was not enough wind to even think about setting a course, and at 2 PM RC posted an on-shore postponement and brought the competitors in. A few boats stayed out on the lake, hoping for a wind to come up, and while there were occasional lines of 5 MPH wind, there were also a lot of dead zones, and what wind there was came from unpredictable directions.
But then suddenly, at 3 PM, a brisk northeasterly breeze kicked in at around 10 MPH, and RC sent competitors back out to race. They set a W - 6 course and got the first sequence, for OOAK keelboats, off at 3:30 PM, followed by sequences for Lightnings, Lasers, Portsmouth boats, 420s, and Optis. Winds varied in strength between 5 and 10 MPH as boats worked their way up and down the course.
After the keelboats and Lightnings finished, RC started another set of sequences for the second race and finished the remaining classes while starting the boats in the fist sequences, this time on a W - 5 course.
Winds kept up long enough to complete the second race, and held promise of staying up longer, but RC wisely decided to call it a day and sent us in. All boats were back at the dock by 5 PM.
Following that, the dinner buffet table was set up by Barb Thompson, and Glenn Hackemer started grilling the hamburgers and hot dogs at 6 PM, while competitors were enjoying a tapped keg of delicious Dry Dock Amber Ale. We finished eating by 7 PM, and had the tent area and clubhouse cleaned up by 7:15. As the last regatta organizers were on their way out, a bright flash of lightning lit the sky, followed by a clap of thunder, and by 7:45 a heavy rain, accompanied by much bright lightning and loud thunder, started pelting I-25 and C-470.
They say that timing is everything, and tonight it seems as if we timed it perfectly.
Wait until tomorrow!
Day 2
Sunday started out as a repeat of Saturday, although with some high clouds overhead. There was, however, a forecast that, from Noon to 3 PM, southerly winds at 12 - 14 MPH would kick in. But at 10:30 AM the lake was flat calm, so RC hoisted a postponement flag on shore, to keep us more comfortably situated than we were yesterday afternoon. At 11:45 it seemed like a breeze might be filling in, so the postponement flag came down and RC (Paul, Julie, Joe Chinburg, Tex, and Philip) headed out, followed by the racing fleet.
However, shortly after all boats left the dock, the winds died, so competitors needed to use paddle power to get out to the start line, and most made it there by 12:45 PM.
Then, at 1 PM, the forecasted 12 MPH southerly winds kicked in, with shifty higher gusts, and RC quickly set a 4 - 8 course and started the sequences.
Because of the good winds, the first race took only about 30 minutes, so RC set inflatable marks in line with the SSW winds and set a W - L - W - L course for the second race.
Winds held up, sometimes gusting to 18, and we were able to complete both the second race and a third ( also W - L - W - L) race by 3 PM. That gave us five races for the regatta -- two yesterday and three today.
Back at the dock the competitors secured their boats and then gathered at the DSA clubhouse for more delicious Dry Dock Amber Ale, waiting for the one-hour protest period to expire and for scores to be compiled and finalized. Fortunately there were no protests, so the awards ceremony started at 5 PM. Ceremonies and consumption of last mugs of beer took until 6 PM, after which all headed for home.
Congratulations to the top finishers in the following divisions:
420 Division:

First Place: Makalynne Dyer and Jack Roy
Second Place: Patrick Barney and Emma Williams
Third Place: a 3-way tie for the 3 USAFA boats -

Aaron Hull and John Riggers
Duke Gosney and Jayce Grandahl
Christopher Patti and Elena Wang

Laser Division:

First Place: Murray Holland
Second Place: Cameron Holland
Third Place: Larry Arbuthnot

Lightning Division:

First Place: Bill Cabrall; Raeyane Farrell; Pat Kiehl
Second Place: Curtis Rist; Issac Hayden; Dylan Maney
Third Place: Jacob Vargish; Pete and Owen Horsch; and Jacob, Josh, Andrew, Carolyn, and Tara Vargish

Portsmouth Division:

First Place: Philip Ryan - Swift Solo # 002
Second Place: David and Angel Neely - Buccaneer # 5236
Third Place: Dan and Jeanne May - Buccaneer # 3945

Opti Division:

First Place: Jack David
Second Place: Bennett Erickson
Third Place: Bryce Holmes

PHRF Division:

First Place: Bill Burson - J/24 # 361, with Jeff, Matthew, and Kurt
Second Place: Ray McCleery - Santana 631, with Todd and Mark
Third Place: Geoff Zaun - Santana 692, with Scott and Julie
The overall Frostbite Regatta winner was Murray Holland, for having the best results in the largest fleet, computed via a complicated scoring algorithm that's documented in the Sailing Instructions.
Our sincere thanks to our sponsors, the Dry Dock Brewing Company; Ameriprise Financial; Cherry Creek Marina; and Dr. Floyd Russak MD.
Special thanks to our Race Committee: PRO Paul Kresge; Scorekeeper Julie Rist; Recorders Denise and Joe Chinburg; Chase Boat Driver Philip Muller; and Mark Boat crew Tex Poor and John Kitter, who did an excellent job getting us five races over two days that saw a lot of dead calm water, but with enough good air to make some exciting and satisfying races.
And thanks to all the regatta volunteers who made the event a success: Jan Davis and Pat Kiehl doing registration, Bill Cabrall, Steve Davis, and Fred Wolf on Jury; Barb Thompson our dinner planner; Glenn Hackemer our Saturday night griller, Kristen Kies, our sandwich runner, Curtis Rist, our tent installer, Norm Jarvis on cleanup, and last but not least, our regatta chair David Thompson.
And a a very special thank you to Steve Davis, who provided a Lightning sailboat to the CSC Junior team on Marnix Hoogwater, Chloe Brand, and Quinn Donaldson.
---
DSA 2014 Summer Series July 17 - September 18
Keelboats – Wednesday Evenings
We held 15 races on eight race days for a total of14 boats.  On most evenings there were eight boats on the line. Two race days were canceled, when cold fronts brought cold rain and gusty winds, and while storm cells threatened on three other evenings, they were far enough away to allow us to go out. The Santanas fleeted, with Ray McCleery, Geoff Zaun, and Mike McKeever taking the top 3 spots.  In the PHRF-scored fleet, Jim Ulatowski took first place in his U-20; Mike Roybal second in his J/24; and Brad lawson took third, in his U-20.
Dinghies – Thursday Evenings
We held 15 races on nine race days for a total of 31 boats.  On average there were twelve boats on the line. Only one race day was canceled, on September 11, when a cold front brought cold rain and gusty winds.  Here is  the write-up for that day:
We awoke to foggy skies with a temperature of 55 degrees, and over the course of the day the fog burned off but the skies got darker as the overcast increased. The forecast had called for periods of rain starting at 4 PM, with temperatures dropping into the 40s by 5 PM. And that's what we got.
By 5:30 PM, three Lightning crews (Cabrall; Rist; and Thompson) and three Santana crews (McKeever; McCleery; and Cook) had assembled, and none of them wanted to go out. There were no other crews on deck. So at 5:45 PM, PRO Geoff Zaun sounded three toots of the horn and hoisted the N flag in the chilly light rain. That turned out to be a good thing, as a bank of fog crept in at 6 PM, obscuring our view of the outer marina docks. It would have been a difficult time on the race course.
The rain continued overnight, mixing with light snow after 2 AM, and at 6 the next morning there was a coating of snow on the rooftops in Highlands Ranch.
For the series, Dan Fesenmeyer, Brian Seim, and Larry Arbuthnot took the top three places in the Laser fleet; Jonathan Cox, Des Runyan, and Randy Moore took the top 3 spots in the Portsmouth-scored fleet; Ray McCleery, Joe Beierl, and Will Cook took the top 3 spots in the Santana fleet; and Steve Davis, Jacob Vargish, and David Thompson took the top 3 spots in the Lightning fleet.
---
Team Ulatowski takes 6th place in the 2014 Ultimate 20 North American Championships, August 7 - 10!
The Ultimate 20 class returned to Racine, Wisconsin for the 2014 North American Championship. 22 boats competed for the classes' top prize. Most teams arrived Thursday to set up and practice out on the lake. The conditions were consistently 7 to 10 knots which generated a short chop which tested the skippers and crews. Jim Ulatowski, sailing with Richard Allen and Taylor Kennedy, took 6th place; Former DSA skipper Mark Allen, sailing with Robert Pincus and Peter Sharp, took first place.
---
2014 Rocky Mountain Junior Olympic Sailing Festival July 25-27
6 races on 2 race days for 29 boats

Results here
.
Community Sailing of Colorado and Denver Sailing Association were excited to host the 2014 Rocky Mountain Junior Olympic Festival at the Cherry Creek Reservoir on July 25-27. All junior sailors were invited to participate. This was Colorado's largest junior sailing regatta of the season!
Special thanks to the DSA members who helped organize and run this regatta: Tom Downing; Curtis and Julie Rist; Wayne Lemley; Murray Holland and Alison Grimsdell; Brandon Kass; Jim Ulatowski; Francine Hoffman; Jay Leidal; and David Thompson.
---
DSA Sailors Take Shelter in Plymouth, MA as Hurricane Arthur passes by, July 3 - 5!
DSA Member Norm Jarvis went on a cruise with former members Mike Taber and Jeanne Labuda on the Taber's 31 foot Contest sloop, StarDancer, sailing from New Bedford, MA to Portland, ME, leaving on July 1 and scheduled to reach Portland on July 9. Then, on July 3, Hurricane Arthur swung by New England, with high winds and heavy rain. Fortunately, our friends saw it coming and found adequate shelter on July 3, 4, and 5. See Google Map. See Mike's complete Itinerary.
Here is Mike's summary:
Norm Jarvis boarded [at new Bedford] July 1, and we left at 4 AM July 2 to get away from the Southern New England coast ahead of Arthur.
We tried to make Wellfleet or Gloucester but due to t'storm threat we ducked into Plymouth Harbor instead…no easy task as we faced high chop and 25-30 kt winds for about 8 mi as we slogged in through the narrow exposed channel, engine on max. Had a comfortable night there [parked alongside the Mayflower]. Left Plymouth the next morning for Scituate Harbor, with better protection from the Arthur storm forecast. Plus there was no place for us a second night in Plymouth.
Spent a wonderful last night in Scituate, saw July 4 fireworks on July 3 from every direction, booming over the water, as most communities had theirs a day early due to approaching Arthur. Then we decided to grab a short weather window July 4 and beat two massive converging storm fronts to Gloucester. We succeeded, arrived 3 hours later, got a great location, a mooring in a fantastically protected corner of the harbor. We stayed the nights of July 4, 5, [and 6] until Arthur's associated mayhem passed.
Unfriendly seas and north winds had been predicted the next 3-4 days, but a weather window opened early this morning [July 7] for 1 day only, so we jumped on it and made Portland ME from Gloucester. Norm and we are having a blast of a time. We may shoot around Casco Bay tomorrow well reefed in 20+ kt winds.
It is a treat to be "sailing Maine" again.
All the best,
Mike Taber
---
Sad News
 It was with great sadness that we informed everyone of the passing of our dear friend, long standing DSA member and Santana 20 sailor, Vern Bybee.  Vern passed away on Sunday evening, June 29th, with his family at his side.  In accordance with his wishes there were no plans for a memorial service.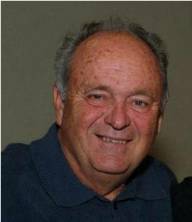 But we remembered Vern at a special evening on August 13, when sailing on Wednesday was dedicated to Vern's memory. The Yacht Club hosted grill night and offered Vern specials; burgers, salmon, and one other entree. Crystal and Todd Brophy generously donated a keg of beer. The drink special was Vern's specialty ... the Mojito. A cake was also served. Many DSA members came for food and drink to celebrate Vern's life and our times with him.
---
 DSA Spring Series, May May 7 through July 10
Keelboats - Wednesday Evenings
We sailed on seven of the ten Keelboat Spring Series race evenings, with a total of fifteen different keelboats out over the course of the series -- typically eight to ten boats out on a given evening.  Thunderstorms kept us off the lake on three of the evenings, and were on the horizon, but far enough away to allow racing, on two other evenings.
All boats competed in one PHRF class, and Tom Bremer in the J/24, Catapult, won the series, with Jim Ulatowski, sailing his U-20, Juiced! in second place, and Geoff Zaun, sailing his Santana -20, Space Pipe, in third.
Dinghies - Thursday Evenings
We sailed on eight of the ten Dinghy Spring Series race evenings, with a total of thirty-seven different dinghies out over the course of the series -- six Lightnings; 14 Portsmouth-scored dinghies; and seventeen Lasers.  Thunderstorms kept us off the lake on two of the evenings, and were on the horizon, but far enough away to allow racing, on two other evenings. On the evening of June 26 we had a season high twenty seven boats on the line.
Kurt Robinson, Larry Arbuthnot and Wayne Lemley were the top three finishers in the Laser fleet; Philip Ryan's Swift Solo took first place in the Portsmouth-scored fleet, with Santana-20 skippers Will Cook in second place and Joe Beierl in third place.
---
Shootout/Hornblower Regatta May 17/18
Results
Photos by Dan May
Photos by Julie Rist
Racing Recap
Day 1
The weather forecast for Saturday included the possibility of an afternoon storm, and fortunately, none materialized anywhere near the lake. Northeasterly winds were generally light, ranging from 0 to about 10 MPH, up and down, with distinct wind lines on the water. The challenge for teams wanting to finish ahead was to find a wind line and stay in it. But there was always enough wind to start and complete races, and on a single course for both keelboats and dinghies, with the finish line offset to the right of the final mark in each race, keelboats got in five races and dinghies four.
The keelboat fleets included four U-20s, four J/22s, and a lone Santana sailing a PHRF Open fleet. The dinghies included fifteen Lasers, seven Buccaneers, five Lightnings, and three boats sailing in a Portsmouth Open (OOAK) fleet - a 420 and two Optis, all sailed by CSC Junior sailors.
The first race was on a windward-leeward course marked by inflatables; subsequent races were on a 1 - 5 course except for the last one for dinghies, which was on a 2 - 7 course.
All racers were off the water and back at the dock by 5 PM, where they then gathered for quaffs of complimentary Dry Dock beer before dinner. The dinner consisted of burgers and brats cooked to order by Jim Ulatowski and Steve Davis, coupled with sides, salads, and dessert, all brought by Barb Thompson who planned the menu and shopped for the food. The Buccaneer fleet provided a Rum Bar for an upscale touch to add to the dinner.
Day 2
The weather forecast for Sunday called for mostly sunny skies, with a high near 85, with south wind 7 to 13 mph, with gusts as high as 20 mph. From 10 AM to about 1 PM the winds were stronger than that, running about 20 MPH with powerful shifty gusts, but after that they settled down to the predicted range. And we definitely reached the 85 degree mark, making for a warm afternoon when out of the wind, and shirt sleve weather even in the wind.
RC set a 5 - 1 course and, for the first race, sent competitors three times around, keeping them on the course for two hours. Subsequent races were single loop races, allowing two more races before calling it a day at 3 PM. A second Santana had joined the PHRF fleet for day 2, making for a little more interesting competition there.
Back at the dock we started the awards ceremony at 4 PM. Results here. Congratulations to J/22 skipper Michael Kline and crew, who won the Shootout trophy for a second year in a row, beating out a U-20 team in a second-level tiebreaker. And congratulations to Kurt Robinson who handily won the Hornblower trophy.
Sincere thanks to all who helped plan and run this regatta, starting with Regatta Chair Curtis Rist, who also worked Race Committee on both days and served as PRO on Sunday. Special thanks to Julie Rist, our speedy and accurate scorekeeper, who also worked RC on both days. And to Paul Kresge, our PRO on Saturday; Roy Burley, Dan May; Mika Hamer; Barb Thompson; Mark Olszowy; and Tom Fitzpatrick (Julie's brother) who rounded out the RC crew.
Other volunteers working to make the regatta a success included our registrar David Thompson; Jim Ulatowski who made delicious Juice Plus shakes; our dinner grillers Jim Ulatowski and Steve Davis; our clean-up crew Glenn Hackemer; Brad Lawson; David and Barb Thompson; and Curtis and Julie Rist; and our Subway runner Mika Hamer, who picked up sandwiches for RC on both days.
And special thanks to Dr. Floyd Russak of East-West Health Centers, who provided a magnificent Yamaha twin-engine jet boat for use by our finish line crew on both days; also to Dry Dock Brewery that donated a cold keg of delicious Amber Ale; Ameriprise Financial that donated the bottled water; Juice Plus for donating the materials for the Juice plus shakes; and Cherry Creek Marina.
---
2014 Thaw-out Series, April 5 - May 3
Early spring weather on Cherry Creek Reservoir is not always the best for sailboat racing, and that held true for 2014. With water temperatures in the 40s and sometimes gusty winds, we raced in just three of the five Saturdays in the series. The last race day of the series was the best, weather wise, and four Lightnings came out that day, along with one keelboat, two Buccs, and a lone Laser. The weather forecast had called for a high of 82 degrees with westerly winds at 8 - 11 MPH, and that's what we got, except that winds died back considerably in the second race, making for a slow and painful beat up to the finish line after rounding the last mark.
---
2014 Work Day, March 29
by Curtis Rist Commodore, DSA
We had fifteen people show up for the open duties day. We did not serve the beer nor any pizza since we all went home around 1:00. The folks who showed up were: Brad Lawson (Did a spectacular job of picking trash up from the dry storage area), Hamilton Cowie ( Raked the all the mulch and went on the second trip to set marks), Mike McKeever (Mark prep and setting), Tex Poor (Mark Prep and setting), Mark Olszowy (mark Prep and setting), Joe Beirel ( general cleanup),Philip Ryan ( mark prep), Steve Frank ( general cleanup),Ralph Stevenson ( and his new wife who helped clean the clubhouse) (Ralph raked and cleaned the dinghy beach), Ralph Taylor (General Cleanup), Glen Hackemer (Mark Prep and General Cleanup), Toby Hamer ( Worked on the Mako), Mika Hamer (picked up the stuff for the membership envelopes and stuffed the envelopes should be in the mail) and Julie Rist (Who cleaned the frig, neatened the clubhouse did a little cleanup in the garden)
We got all of our chores done a little after noon and those that stayed, while offered lunch chose to save the money and go home instead. Jay was not at the marina so what ever chores that he needed were not completed but the general cleanup of the beach and the dry storage area made a big difference.
The clubhouse is in pretty good shape and really did not need any painting or minor repairs.
---
2014 Denver Boat Show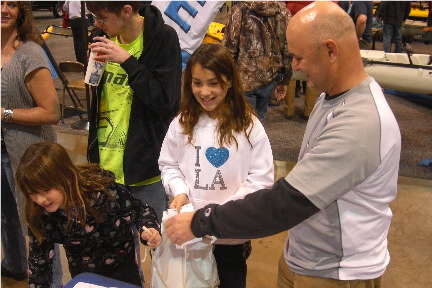 DSA exhibited at the 2014 Denver Boat Show at the Colorado Convention Center, Friday through Sunday, January 10 - 12. We were part of a combined booth of Colorado sailing and yacht clubs organized by the Sailing Association of Intermountain Lakes (SAIL), the US Sailing regional authority for the Colorado region.
Our thanks to the 19 DSA volunteers who staffed the booth:
| | | | |
| --- | --- | --- | --- |
| Day | Time | Name | Name |
| Tuesday January 7 | Booth Set-up 8AM - Noon | Curtis Rist | |
| Friday January 10 | Noon - 4 PM | Fred Wolf | Curtis Rist |
| Friday | 4 PM - 7 PM | Ralph Stevenson | Curtis Rist |
| Friday | 7 PM - 10 PM | Curtis Rist | |
| Saturday January 11 | 10 AM - 1 PM | Brad Lawson | Mike McKeever |
| Saturday | 1 PM - 4 PM | Dan & Ryan Fesenmeyer | Leanne, Lucas, and William Fesenmeyer |
| Saturday | 4 PM - 7 PM | Steve Davis, Rob Merritt, Allison Merritt | Jan Davis, Christine Merritt, Madison Merritt |
| Saturday | 7 PM - 10 PM | Hamilton Cowie | |
| Sunday January 12 | 10 AM - 1 PM | Evan Morris | Mary Ann Morris |
| Sunday | 1 PM - 3 PM | Curtis Rist | Julie Rist |
| Sunday | 3 PM - 5 PM | Curtis Rist | Julie Rist |
| Sunday | Booth Tear-down 5 PM - 8 PM | Curtis Rist | Julie Rist |
---
---
---
---