---
Preliminary 2013 Race Schedule is posted!
November 21: A preliminary 2013 DSA Race Schedule has been developed and is posted on the Calendar page.
---
DSA Hurricane Sandy donations collected November 3 and 10
Thanks to our generosity, twenty boxes of donations were collected and shipped for residents of coastal New Jersey who were devastated by Hurricane Sandy. Here is the original posting.
---
DSA Year-End Banquet November 10
by Jim Ulatowski DSA Commodore
On Saturday night November 10th, DSA held the year end banquet at the Cherry Creek Marina and Yacht Club. 84 members and their families and friends joined us in a night of celebration.
The night started out with our guests enjoying appetizers, complimentary Dry dock beer, wine, and great camaraderie and of course sailors and their sailing stories. As the evening progressed we all enjoyed a great dinner provided by our caterer "A Perfect Bite" that did another outstanding job in providing us with an excellent meal.
While our guests had dinner we started into our year end presentation and slide show. The presentation recapped the year's activities that included our regattas, series racing as well as our social events. The club's financial picture was presented and I'm very proud to say that the club is on very solid ground moving forward. The presentations where followed by the awards for both our series racing for the year as well as our perpetual awards. Results can be found here, with details on the website, at http://www.denversailing.org/home/series-racing/scoring.
Members attending voted for 2013 Board positions. Here are the Election Results.
We wrapped up the night catching up with everyone and enjoying some good times as we head into winter and start to look forward to another great sailing season in 2013.
A special thanks goes out to Francine Hoffman our social director for organizing and putting together another great Banquet.
---
Many Hands Make Quick Work at Fall Cleanup Day November 3
By Jim Ulatowski DSA Commodore
On Saturday, November 3, twenty DSA members showed up for our work day to lend a hand in preparing the club house and equipment for winter. We pulled all the race marks from the lake, pulled the committee boat, cleaned up the grounds and emptied the refrigerator. The weather couldn't have been better with partly sunny skies and mild temperatures which was especially appreciated by the guys pulling the race marks from the water. We fired up the grill and cooked up what was left in the fridge and emptied the cupboards. All the volunteers enjoyed burgers, brats, chips, dips, cold beer and spending time with their fellow sailors.
A big thanks to all those that came out and volunteered for the day as many hands made for a short work day:
Jim Ulatowski, Francine Hoffman, Jay Leidal, Rick Leidal, David Thompson, Barb Thompson, Tex Poor, Philip Ryan, Robert Merritt, Jeff Miller, Jim England, Toby Hamer, Vern Bybee, Roy Burley, Brad Lawson, Marty May, Fred Wolf, Mike McKeever, Mark Olszowy, and Steve Frank.
More photos from Francine Hoffman:
See everyone in the Spring! Jim Ulatowski Commodore DSA
---
Updated Final 2012 Results are Posted
Final results for the Thaw-out, Spring, Summer and Fall Frostbite series are posted, and have been updated, adjusted for participation in Race Committee. Read more here.
---
Fall Frostbite Series is Concluded!
The last races of the Fall Frostbite Series were sailed on Saturday, October 27, in a combined Fall Series Race Day and Pumpkin Bash Regatta. It was a chilly day, with light winds, and after two races the sailors were glad to be back on shore for snacks and warm soup and chill. Read more here.
This concludes the 2012 DSA Sailing Season. Next Saturday is the Fall Workday, and the following Saturday is the annual awards banquet. Make plans now to participate!
---
High Winds on October 17 Damage the Marina and Destroy DSA's Tent!
by Curtis Rist Vice Commodore, DSA
Strong northwesterly winds swept over the dam this morning, blowing out DSA's tent. The tent is totaled, the frame was not salvageable -- more crushed poles than whole poles. The fabric is still next to the club house but it will never be a tent again, maybe a boat cover. One table has a bent frame while two tables have tops with holes in them. The black trash can was on the breakwater, we may want to come up with a way to tie it to the outside of the building in the future. The rope light has been salvaged and a couple of the straps have been recovered. Three straps parted which probably led to the tent flying away.
Also, the grill has grilled it last burger. It blew over and the grill shattered. As for DSA boats the only two that were affected were the Hunter which blew off of the trailer and Marc Castells' C-15 which also blew off of its trailer. The keel boats were blown around a bit with the S-20's nudging one another and the J-24's touching. But no other members boats seem to be affected adversely.
All said we are better off than the rowing club, a $22,000.00 shell was holed and a recent donation was knocked off of its stand and broken in half.
The main dock of the marina has broken free of its moorings and is about 10 feet out of line while C dock is completely free and buckled.
9News reports 46 mph at Centennial and 62 mph at Buckley Air force base.
---
Team Redbeard sweeps the PHRF A Class at the Chatfield Columbus Day Regatta!
By Brad Lawson Skipper, U-20 # 63,
Redbeard
The Columbus Day regatta this weekend was fun although a bit chilly on Saturday [with a high temperature of 34 degrees, overcast skies, occasional light drizzle, and northerly winds at 14 MPH, and snow falling during the third race], and much warmer on Sunday.
RC got 3 races completed the first day and two on the second day. Throughout the weekend the wind never got above the low teens. Sunday experienced more sun but less wind. I believe there were 4 J22s, 2 Santana's, 1 U20, 1 McGregor, 1 Catalina 27, 1 J24, and a few other OOAKs. Redbeard was the only boat from DSA.
The first sequence included the J22s, the Santana's and my U20. Of the five races, Redbeard was first to finish in three of them. We finished second and third in the other two races due primarily to late starts.
Sailing in the PHRF A Division, Redbeard sailed against the two Santana's and finished first on corrected time with five bullets. Seth McGonigal and junior racer Cameron Holland crewed on Saturday and David McVey and Cameron on Sunday.
---
54 Boats Compete in the 2012 Colorado Governor's Cup Regatta
The 2012 Colorado Governor's Cup Regatta was held on September 22 and 23 on Cherry Creek Reservoir, hosted by the Denver Sailing Association, and led by Commodore Jim Ulatowski who served as Regatta Chair. 54 boats competed on a beautiful, warm. sunny weekend with mild winds on Saturday, and unfortunately, no wind on Sunday. Still, there was enough wind on Saturday to get off five races on the keelboat course and four on the Dinghy course.
We welcomed five speedy A-cats from Union Sailing Club and four 420s from the U.S. Air Force Academy Sailing team, along with four J/22s; ten Lasers; five Hobie Cats; eight Lightnings; four Portsmouth Class dinghies; six Santanas, four Ultimate-20s, and four PHRF keelboats, racing on two courses, with Bill Darling and Paul Kresge as PROs.
The highlight of Saturday racing was a home-cooked Italian gourmet dinner, prepared by Steve and Jan Davis and Francine Hoffman.
Congratulations to the winners of the Governor's Cups: Bart Beck in the dinghy division and Randy Shelton in the keelboat division!
We thank all our sponsors for their support and participation: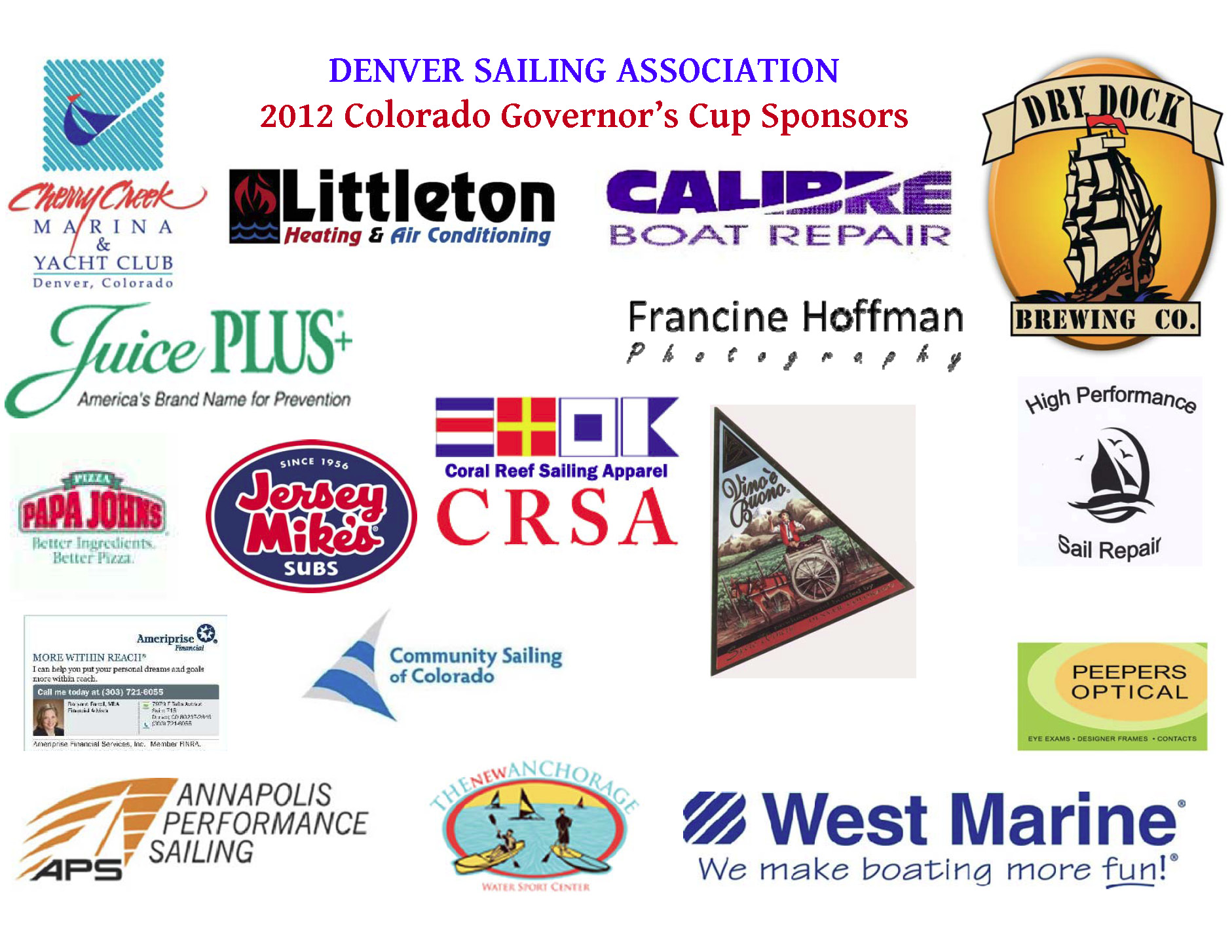 :
---
2012 Summer Series is concluded - Scores Are Posted
We got in ten weeks of good sailing in mostly gentle winds, and had only one evening canceled for lack of wind -- Keelboat Series # 8, when the recorded wind measurements for the 2-hour race window were in the range of 0 to 0 with gusts to 3. We had one evening -- Keelboat Series # 2 -- when, prior to racing, the winds kicked up with gusts to 38, but settled down to a steady 20 after 7 PM, allowing RC to get off two races, in exciting conditions for the three J24′s, one J30 one S2 and five Santanas that were out. Read more here.
---
Revised By-laws Ratified at a Special Membership Meeting on August 28
At a special general membership meeting on August 28 the assembled board members reviewed the submitted proxy votes and determined that there were sufficient "Yes" votes to ratify the revised By-Laws that have been in work since last year. Congratulations to our Vice Commodore, Curtis Rist, who headed the effort to obtain proxies, and to all the other board members who assisted.
Members can view the revised By-Laws by logging in to the members-only pages and then navigating under Member Services to the View Revised By-Laws page.
---
Eight boats compete in the 2012 DSA Commodores' Cup Regatta on August 26
Eight DSA boats came out on a warm and sunny afternoon to compete in the 2012 Commodore's Cup Regatta. Easterly (and sometimes westerly) winds were light and variable, prompting RC (Jim Ulatowski and Francine Hoffman) to postpone the start for half an hour and then set a W - 5 course, with two sequences -- one for keelboats, the other for dinghies. The course was then shortened at the leeward mark and some boats were towed back to the starting line for the second race -- a 6 - F race with a downwind start. For the first race, the boats were helmed by designated crew.
Congratulations to Laser sailor Steve Davis, winner of the Portsmouth (dinghy) class, as well as winner of the Commodores' Cup trophy, and to Santana-20 skipper Ray McCleery and crew, winner of the PHRF (keelboat) class. And to Santana-20 skipper Toby Hamer, and crew, who won recognition for the best-costumed competitors, reflecting the Margaritaville theme for the regatta.
Other competitors included Glenn Hackemer and crew in Glenn's S-2; Tom Downing and crew in Tom's J/30; Bill Cabral and crew in Bill's Lightning; Curtis Rist and crew in Curtis' M-20; and Greg Cox, in his Laser. Greg took an unexpected swim at the leeward mark of the second race, but still finished close to the rest of the class.
Competitors convened at the DSA clubhouse after racing for Key West themed appetizers and Margaritas.
Sincere thanks to Jim and Francine for organizing and running the regatta!
---
DSA Junior Open Regatta August 18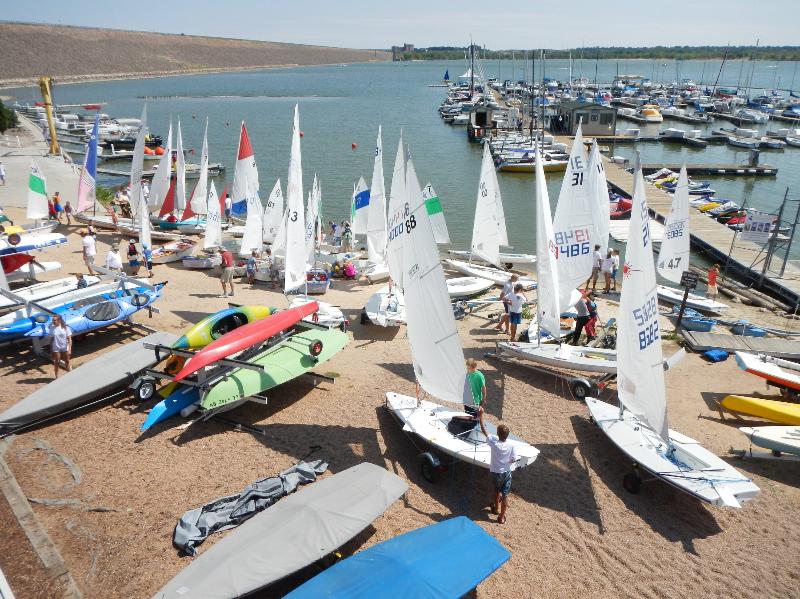 By Regatta Organizers: Brandon Kass Francine Hoffman Steve Davis
On Saturday, August 18th, the Denver Sailing Association hosted the 2012 DSA Junior Open Regatta at The Cherry Creek Marina & Yacht Club. This Junior Regatta was the season finale for Colorado's junior sailing season and the last regatta on the 2012 SAIL Junior Regatta Tour. The regatta attracted 37 boats and 47 junior racers from Community Sailing of Colorado's Junior Sailing Program and the Dillon Yacht Club's Junior Program.
The Race Committee did a great job of dividing the boats into 6 fleets including: Optis, Prams, Laser Radial, Laser 4.7, Portsmouth, and at C420/Laser Full Rig Fleet. This year's regatta PRO was Tom Downing assisted by Rebecca Espinosa and Sophie Dassonville to round out the Race Committee Team. All did a great job with the hot, light and shifty wind conditions that were given to them. A typical August day on the Cherry Creek Reservoir…
The day started with registration, done by Francine Hoffman, and breakfast provided by Jim Ulatowski of JuicePlus. The racers trickled in during the morning until all seemed to be putting the final rigging touches on their boats. DSA Commodore Jim Ulatowski kicked off the regatta by welcoming everyone following by a competitor's briefing at 10:30 AM with Tom Downing. Afterwards, everyone headed over to the parking lot for a brief "racing clinic" to walk through of what to expect on the water. Seasoned Junior Racers and volunteers demonstrated how to start, walked the courses we will be using, and reviewed flags as Brandon Kass commentated on their actions. This was very helpful for our first-time racers and was a good refresher course for the rest. Lunch was then served and eaten quickly by all and a BIG THANKS to Papa John's Pizza for their support!
The racers took to the water and the first race was started around the 1:00 PM mark. Two starts were scheduled to divide the group into two separate fleets. After some bobbing, the wind slowly filled in from the northeast to finish the first race. This ebb and flow of no wind to filling in to about 7-8 MPH was what the afternoon ended up with. The Race Committee Team, mark boats, and all volunteer safety boats did a great job by getting in 4 excellent races while keeping it fun for the kids. Francine Hoffman captured the day by photograph, and all pictures are available to view or purchase at http://francinehoffmanphotography.zenfolio.com/. By the end of the day, all racers were ready to head back to the beach to meet our Regatta Chair, Steve Davis, for some frozen treats. Steve met all racers and volunteers at the beach while the de-rigging and cleanup commenced. The day was ended with a raffle of sailing gear, hats and swags along with the awards ceremony. All participants walked home with something for their accomplishment and hopefully they all walked away with a smile! This event was a huge success and was potentially "Colorado's Largest Junior Regatta" to date! THANK YOU to all the volunteers to helped make this day special for all our junior racers.
---
Steketee Trophy Awarded To Lightning Fleet 488
DSA's Rocky Mountain Lightning Fleet 488 was awarded the Neal Steketee trophy at the summer general membership meeting of the International Lightning Class Association (ILCA) in Houston in August this year. The trophy is awarded annually to the North American Fleet that has been outstanding in furthering the purpose of the ILCA in promoting and developing racing in Lightnings.
A photo and a story are included in the current edition of the
Lightning Flashes
magazine -- see page 18.
---
Dillon Open August 4 - 5
Twenty-three DSA boats traveled to Lake Dillon the weekend of August 4 and 5 to compete in the 2012 Dillon Open Regatta. DSA dominated the Santana and U-20 fleets, with the top five spots (out of seven) in the Santana fleet, and the top four spots plus the 6th spot (out of 7) in the U-20 fleet (and former DSA skipper Mark Allen, now in Salt Lake City, placing fifth). Four DSA boats placed well in the nineteen-boat J/22 fleet, with Robin Jackson placing first! Other DSA keelboats participating included Michael Dannecker, who placed second in the J/24 fleet, Scott Snyder, who placed second in the Etchellls fleet, and Kurt Robinson, sailing his San Juan 21, who placed second in the PHRF fleet.
DSA Laser sailors competing included Wayne Lemley, who placed second; Dan Fesenmeyer, who placed third, and Josh Work, who placed 8th in a 9-boat fleet.
In the Portsmouth-rated Junior division, DSA Opti sailors Ryan Fesenmeyer, Cameron Davison, and Lucas Fesenmeyer joined CSC racers Cameron Holland and Max Williams (Laser Radial) and Austin Williams (Opti) in filling in the13-boat field, with Cameron and Max in the top two spots. Congratulations, Juniors!
DSA members Curtis and Julie Rist served on Race Committee.
Here are the complete results. Here is a copy of an article in the Summit Daily. Here is a special report from the U-20 fleet.
---
Aspen Open Regatta July 14 - 15
Updated July 17
Nineteen DSA and Community Sailing boats traveled to the Aspen Yacht Club on Ruedi Reservoir to join 33 other boats for the 2012 Aspen Open regatta, on a weekend with dramatic, variable weather conditions making for challenging mountain lake sailing.
Congratulations to DSA skippers Jim Ulatowski, Cliff Begnaud, Marty May, Brad Lawson, and Tom Downing, (and former DSA skipper Mark Allen, now in Salt Lake City) who took top places in the U-20 division; Mike McKeever, Ray McCleery, and Toby Hamer, who took top places in the Santana 20 Division; Bill Cabrall; Adam Hostetter, and David Thompson who placed second through fourth in the Portsmouth fleet; Larry Arbuthnot and Scotty VerMerris who sailed in the Laser fleet; and David Baker; Robin Jackson; Mark DeDionisio, and Jay Herrmann who placed well in the J/22 fleet. Also to Murray and Cameron Holland from Community Sailing of Colorado, who placed third and fourth in the Laser fleet.
Here are results. Here is a special report from the U-20 fleet. Here is a copy of the front page of the July 16 edition of the Aspen Times; and a copy of page A7. Also, here is a copy of the front page of the Aspen Daily News. Here are photos. Here are more photos.
Saturday's sailing started with an hour an a half of postponement under flat calm conditions in warm sunshine, prompting several crew members to jump into the lake for a refreshing swim. Then a gentle westerly (and sometimes easterly) breeze filled in, allowing starts for all five divisions. Then towards the end of the first race for the Portsmouth division (that started fifth in the sequence), a passing storm cell brought 40+ MPH gusts, knocking several keelboats flat and overturning most of the Lasers and Sunfish. Bill Cabrall at the leeward mark noted all six Sunfish sailing downwind side-by-side suddenly go simultaneously airborne before capsizing. Lightning flashes in the sky subsequently prompted the 3 Lightnings to finish the race and then retire, but most other boats stayed out for three more races.
Sunday's conditions were a repeat of Saturday's except that the postponement at the beginning was only about 15 minutes, and the 40+ MPH gusts from the passing storm cell waited until many boats were headed in after finishing the last race of the day. That made for some difficult docking scenarios, and a long wait at the clubhouse for the storm to pass before hauling out, but by 6 PM the sun was shining, the air was warming, and the last boats were hauling out.
The Aspen Open is always memorable for the Saturday post-racing dinner and entertainment, and the 2012 regatta was no exception, with an excellent catered dinner and a very good open bar at the cocktail reception, followed by dancing and camaraderie into the later hours of the evening.
Most of the participants camped on the Aspen Yacht Club grounds, making for easy access to their boats and to the clubhouse facilities.
---
DSA Spring Series Racing Results
Updated July 6, 2012
The 2012 Spring Series races started on May 2, with 14 keelboats on the water on a breezy evening, and continued on May 3, when it was too windy for the dinghies. Gentler wind conditions were on hand for Series # 2, May 9th and 10th, with a good turnout on both evenings. In Series # 3, May 16 and 17, we had nice 7 - 8 MPH westerly winds on Wednesday and extremely light winds on Thursday -- so light that they registered 0 on the wind gauge at Centennial Airport. In Series # 4, May 23 and 24, we were rained out on Wednesday, but we had beautiful winds under clear skies on Thursday. In Series # 5, May 30 and 31, we had strong, but manageable winds on Wednesday and good winds on Thursday, getting in two nice races each evening.
In Series # 6, June 6 and 7, the Denver area and surrounding counties were hammered by strong thunderstorms producing gusty winds, large hail, and multiple tornadoes. Timing was such that we were able to start a race on Wednesday, but abandoned it when conditions on the lake deteriorated, and we started and completed one race on Thursday before the competitors made a dash back to the dock. On both days all boats were secured before the rain started at the lake. In Series # 7, June 13 and 14 there were no thunderstorms anywhere in sight,and winds were gentle on Wednesday and light and flaky on Thursday. In Series # 8, June 20 and 21, the week started with record high temperatures on Monday (100 degrees) and Tuesday (high 90s) but cooled nicely for racing on Wednesday (mid 70s) and slightly warmer (low 80s) on Thursday. Winds were gentle on Wednesday and very strong on Thursday, so we got in two races for keelboats on Wednesday and one for dinghies on Thursday.
In Series # 9, June 27 and 28, the preceding five days had each seen record high triple-digit temperatures (104 - 105 degrees), but on Wednesday and Thursday evenings a passing rain shower earlier in the afternoon cooled the air down nicely for racing, with gentle winds on Wednesday and stronger winds on Thursday.
In Series # 10, the last races of the 2012 Spring Series, we canceled racing on Wednesday, July 4 to allow DSA members to enjoy the holiday and spend time with their families. We did however have dinghy racing on July 5. Read more here.
---
J/24 United States National Championship, Lake Dillon CO, June 26 - 30
Updated July 2, 2012
Five DSA J/24s and crews ventured to lake Dillon last week to compete in the J/24 United States National Championship. Also participating was DSA Vice Commodore Curtis Rist, who drove DSA's Mako to serve as the mark boat. Results here.
---
Light Winds Test U-20 Fleet at Carter Lake Regatta
Marty May's Redline takes top honors
June 4, 2012 By Brad Lawson
With warm weather and good wind throughout the start of the spring season, something was bound to give and it did this past weekend. The warm weather remained, but the winds did not, as boats struggled to get racing in for the Carter Lake Regatta especially on the first day of a two-day regatta.
The Carter Lake regatta is an annual event hosted by Carter Lake Sailing Club, where it hosts one-design and PHRF fleet racing for various classes of keelboats. This year the U-20 fleet had five entries, Juiced, Mongoose, Redbeard, Redline, and Velocitize.
The timing and importance of the event always draws top competition and most of U-20 Fleet 4 were entered again this year to see what they have heading into the summer regatta season. Unfortunately, the wind never topped five knots on Saturday and only two races were completed per division. Race Committee sent boats to the docks for what turned out to be a two-hour postponement because of a severe thunder and lightning storm that moved in over the lake.
On Sunday, and with better winds, the race committee got the most out of the conditions to complete four races per division. Final results had Marty May's Redline finishing 1st, Jim Ulatowski's Juiced claiming 2nd (just one point behind), and Brad Lawson's Redbeard taking 3rd place. Tom Downing, Velocitize and B.W. Bilberry on Mongoose were 4th and 5th respectfully.
Competition throughout the weekend was tight and with the light and variable winds no boat was ever really out of any one race.
CLSC Final Results for Fleet = U20

Sailed:6, Discards:0, To count:6, Ratings:PHRFTOT, Entries:5, Scoring system:RRS Low Point

Rank

Fleet
Boat
Helm
SailNo
Crew
Rating

R1

R2

R3

R4

R5

R6

R7

Total

Nett

1st

U20
Red Line
Marty May
78
159

3.0

1.0

3.0

1.0

1.0

2.0

11.0

11.0

2nd

U20
Juiced
Jim Ulatowski
19
159

4.0

2.0

1.0

3.0

2.0

1.0

13.0

13.0

3rd

U20
Redbeard
Brad Lawson
63
159

2.0

3.0

4.0

2.0

4.0

3.0

18.0

18.0

4th

U20
Velocitize
Tom Downing
77
159

1.0

4.0

5.0

4.0

5.0

DNC

25.0

25.0

5th

U20
Mongoose
BW Bilberry
96
159

5.0

5.0

2.0

5.0

3.0

DNC

26.0

26.0
---
2012 U-20 North American Championship May 18 - 20
By Brad Lawson
Never let it be said that Pensacola, Florida cannot deliver three consecutive days of perfect U20 sailing conditions. The Chamber of Commerce went all in for this year's North American Championship and for those of us who took the challenge and traveled the 1,500 miles to Pensacola in May, we were not disappointed.
In fact, twenty one U20s found their way to Pensacola for the 2012 North American Championship Regatta. Three of those teams were from DSA's own U20 Fleet and included skippers Jim Ulatowski (Juiced), Brad Lawson (Redbeard), and Mark Allen who chartered a boat from North Carolina.
In Pensacola Bay in the late spring/summer there is typically an E-SE gradient breeze in the mornings (4-7 kts) which gives away to moderate sea breeze (8-15kts) at noon each day unless there is an overpowering weather system nearby. This weather pattern proved true to form. After the sea breeze finally won its daily battle and brought favorable wind, the race committee was able to get nine races in over three days. The entire regatta was raced on windward leeward courses.
While the sea breeze remained remarkably consistent small shifts had to be managed well with respect to the rest of the fleet and the next oscillation. RC set a beautiful racecourse and the fleet sailed races that were between 45 and 60 minutes. The chop and current conditions were mixed throughout the weekend and forced all competitors to concentrate not just on boat speed but also on the numbers as there were favorable shifts to be found and capitalized on. Racing was tight the entire three days. In the first 8 races, all boats finished within 2 minutes of one another.
The teams from Colorado had their moments. Mark Allen and crew Marty May and Peter Sharp showed excellent speed throughout the championship and if they had sailed the first two days like they did day three (a 1st & 2nd) this team could have jumped into this year's winner's circle.
Always in the hunt, Jim Ulatowski and crew David McVey and Robert Pincus, were top ten finishers.
Brad Lawson, Seth McGonigal and local Pensacola sailor Mas Azuma finished 15th. While the crew did a great job in catching up with the fleet, a too aggressive skipper had us over early at the start in at least two races, said Lawson. Wait until next year, he added. In the end the usual suspects found their way to the lead in most races. Jim Pearson, Tac Boston, Michael Eisenberg, B.J. Jones, and Keith Ziegler picked their way to the front with excellent upwind driving and downwind cunning. Local sailor Billy Ellis and crew were never far behind either. Although Jim Pearson and Tac Boston battled it out until the last day, Jim Pearson and his crew Brad Boston and Eric Vigrass were crowned the 2012 North American Champions! They sailed with the most consistency throughout the three days and put together a score line that would not be beaten.
A huge applause goes to the Staff and RC at Pensacola YC for putting on such a terrific event. Next year's championship event heads to the West Coast.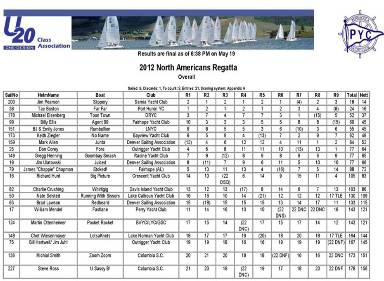 ---
Shootout/Hornblower Regatta
By Curtis Rist DSA Vice Commodore
We woke to thunder and heavy rain on day 1 but by the end of the competitors meeting the rain had eased and we headed out on the lake for racing! The dinghies got in five races as the weather improved and the wind eased, while the keel boats got in 4 races. The evening brought no wind and clearing skies for a good regatta party. Day 2 brought the promise of typical Colorado winds that started the day from the northeast then first clocked to the southwest and finished the day in the east, making it challenging for the Race Committees on both courses, but both got in an additional 3 races to complete the regatta. Congratulations to all the winners of each class and to Ray McCleery and his crew of Santana 20 #631, A Fine Pickle, winner of the 2012 Shootout Trophy, and to Kurt Robinson of Laser #150919 winner of the 2012 Hornblower Trophy. Scores here.
Sincere thanks to Francine Hoffman, DSA Social Director and regatta registrar, for her superb job of organizing the registration and party, providing food and beverages and the trophies. Francine also took all of the on-the-water photos of the competitors. Sincere thanks to Curtis Rist, DSA Vice Commodore, the chair for this regatta and the PRO for the dinghy course for organizing and running the regatta. Sincere thanks to Paul Kresge of DYC for being the PRO on the keel boat course and providing the Apex from DYC. Also sincere thanks to all of the volunteers who worked on both Race committees, who without we could not run a regatta, and lets not forget our sponsors: Dry Dock Brewing; Cherry Creek Marina & Yacht Club; Jersey Mike's Subs; Ameriprise Financial; and Francine Hoffman Photography. Racing Recap here. Pictures here.
---
America's Cup Presentation, April 29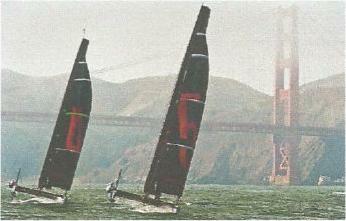 We joined Tom Ehman, vice Commodore of the Golden Gate Yacht Club, for a presentation on the 34th America's Cup Regatta to be conducted in San Francisco the summer of 2013. In a sterling and inspiring presentation at the Cherry Creek Yacht Club we learned about sports oldest trophy and the innovations that will make the 2013 America's Cup regatta the most exciting and spectator-friendly cup EVER! JuicePlus provided breakfast, and a cash bar was available.
---
2012 Thaw-Out Series Races
The 2012 Thaw-out Series started on April first, on a beautiful spring day, and continued throughout April, with only one blowout, on April 15, when at noon the temperature was 47 degrees and winds were blowing 30 MPH with gusts to 40. On a much nicer day, fifteen boats were on the water for the series # 4, on April 22, and we had a record turnout for the last races of the series, on April 29. Read More Here.
---
DSA Work Day March 18, 2012
by Francine Hoffman DSA Social Director
What a great feeling to have a list of tasks to get the Club and surrounding area ready for the saillng season and have 20-25 people show up to help. We accomplished everything within hours. The day started at 10 am and by 3 we were done and enjoying chili, chips and a Mexican casserole. The only thing we were unable to do was set the marks. The winds were not cooperative on Sunday. We were able to prepare them for the following weekend which is plenty of time before we start racing on April 1.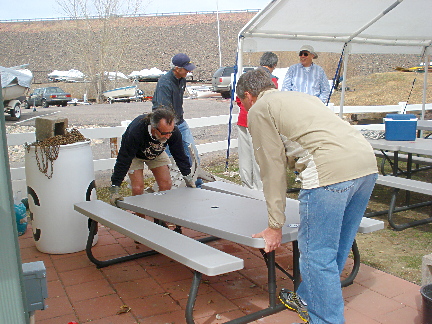 photo credit: Francine Hoffman
A big thanks to everyone who showed up to lend a hand: Jim Ulatowski, Curtis Rist, Roy Burley, Tex Poor, Philip Ryan, Al Gawtrhop, Craig Bouck, Andrew Bremner, Ray McCleery, Darek B., Jay Hammerer, Jeff Miller, Norm Jarvis and family (Caroline, Andrew, Kaleb abd Dylan), Joe Bierel and Glenn Hackemer.
We look forward to a great sailing season and the use of the renovated clubhouse (our mini yacht club at mile high!)
See you on the water!
---
U20 – Redbeard finishes 1st Overall at 2012 San Diego NOOD!
by Brad Lawson U-20 Fleet Captain
DSA's Brad Lawson and tactician Seth McGonigal arrived back in Denver last week after receiving 1st Overall in the Ultimate 20 fleet at the 2012 San Diego NOOD, March 16 - 18. Amanda Chen, an experienced U20 sailor from So Cal trimmed from the forward position.
At a three day regatta that experienced plenty of wind, rain, and hail, Redbeard was able to move past a local U20 and stay ahead of second place boat DogOnIt from Utah.
While the first day was sailed in 10-15 knots of wind under beautiful blue San Diego skies, the second and third day were completely different stories. First day results found Redbeard in second place behind a L.A. boat, Mr. Happy.
After most boats got to the race course on Saturday, RC decided to cancel all races due to extreme wind conditions (25-35+). This was the definitely right decision as boats from the 505, International 14, Viper, and U20 fleets found the wind and chop conditions in San Diego's South Bay nearly impossible to sail.
The third and final day brought more wind and hail and many boats from various fleets including Mr. Happy decided against sailing and started packing up. With a prediction for dissipating wind in the afternoon, RC motored out, determined to get some races started for the boats wanting to sail. Under a reefed main and only periodic use of the jib, three U20s completed two races.
The sailing venue in San Diego bay is spectacular and the host yacht clubs from San Diego and Coronado do a great job. "We can't wait to get back there next year to defend our title," said Lawson.
Well done, Redbeard!
---
General Membership Meeting February 21
The general membership was invited to the February 2012 DSA Board Meeting on February 21 to review the draft proposed revisions to the DSA By-laws and the proposed 2012 budget. Members in attendance were requested to review the documents and return feedback to Commodore Jim Ulatowski by March 6. If you are a current member and would like to receive a copy of the draft revised by-laws in Word Document format, please email a request to the Vice Commodore.
---
After-Holiday Party
On Saturday, January 28, DSA Members and guests gathered for a most enjoyable evening of socialization, beer, and hors d'oeuvres at the Dry Dock Brewery and Brew Pub at 15120 East Hampden Avenue in Aurora. Dry Dock is the official beer sponsor of the Denver Sailing association.
Report from Social Director Francine Hoffman:
A big thanks to everyone who came out to Dry Dock this past weekend to help raise funds for our DSA Clubhouse. There were about 30 people in attendance, and I am proud to say that it was a mix of members, friends, family and possible new members. We raised just over $400 dollars, and can now begin the construction process. A huge thanks to The Fix It Guys (Jim Ulatowski) for his donation of labor to the project.
The goal is to have the Club Beautification done in time for the Kick off Party in April. Please take a look at the Social Events scheduled for the upcoming year and save the dates...it should be a great year with our new look.
If you are interested in donating items to the Club please email
social@denversailing.org
The list of items still needed are: Paint, Wainscot, an Under Counter Refrigerator, Counter top, Flooring.
---
2011 News
---