2015 Results
DSA's Regattas
2015 News Items
---
Curtis Rist - Elected Commodore of SAIL
Congratulations and thank you Curtis Rist for additionally volunteering and becoming commodore of the 
Sailing Association of Intermountain Lakes
.  DSA and the other mountain sailing clubs will all benefit from Curtis's experience and leadership he brings to this important regional sailing post.
---
60 DSA Members and Guests Enjoy The 2015 DSA Annual Banquet!
On Saturday night November 7, DSA held the year end banquet at the Blue Bonnet Restaurant at 457 South Broadway in Denver.  Sixty DSA members and their families and friends joined us in a night of celebration. The night started out with our guests enjoying their drinks and chips and salsa,  and great camaraderie, with sailors sharing their sailing stories. As the evening progressed we all enjoyed a great buffet dinner provided by the restaurant that did  an outstanding job in providing us with an excellent meal. After our guests had dinner we started into our year end presentation and
slide show
.
The presentation recapped the year's activities that included our regattas and series racing as well as our social events. The presentation was followed by the Annual Meeting and then by the presentations of our perpetual awards and awards for our series racing results for the year.  The Awards can be
found here
, with details on the website, at
http://www.denversailing.org/home/series-racing/scoring
. We wrapped up the night catching up with everyone and enjoying some good times as we head into winter and start to look forward to another great sailing season in 2016. A special thanks goes out to Barb Thompson, who organized and put together another great banquet, and to Curtis and Julie Rist, who prepared and brought the perpetual trophies to the venue, and to Glenn Hackemer, who organized the presentation of the awards.
---
Thanks to Our Members - Fall Work Day 2015
On a beautiful sunny October Saturday, 17 DSA members came out to perform our annual end-of-season work, including hauling out the marks, hauling out and scrubbing the Mako Committee Boat, cleaning the grounds, and closing up the clubhouse.  We ended the day with burgers and hot dogs cooked on the grill, and more cups of Dry Dock Pale Ale from the nearly bottomless keg donated by the Dry Dock Brewing Company.  Thanks to all who came out:
Richard Allen
Scott Boughton
Bill Burson
Bill Cabrall
Jim England
Steve Frank
Kristen Kies
Ray McCleery
Jeff Miller
Tex Poor
Curtis Rist
Kurt Robinson
Ralph Stevenson
David Thompson
John Van Pelt
Doug Work
Noah Work
---
August 29 Social Event an Enjoyable Evening!
Mark Rounding and Moonlight Sail Social Event August 29 On a warm and sunny Saturday afternoon, 27 DSA members and guests and 5 Salty Dog Sailing Club (SDSC) members and guests convened at the DSA clubhouse to socialize and prepare to go out sailing on a social event well-organized, planned, and led by Social Director Kristen Kies. Members and guests started arriving at 3:30 PM and quickly jumped into the networking activity of the agenda, with snacks and beverages provided by DSA and SDSC. At 5:30 PM the guest-to-boat assignments were completed, and, after quick welcome messages from DSA Commodore David Thompson and SDSC leader Gary Kieft, we had a tutorial on mark rounding techniques provided by Ed "Captain Eddie" DuPont, skipper of J/24 # 2185, 
What's Her Name
. That was followed by a quick instruction on how to participate in the poker run -- sail to a mark, pull one envelope from it, and use the cards in the envelope to help build a poker hand, then sail to another mark and repeat -- and keep doing so until all the marks are visited. Then skippers and guests departed for the docks and got away by 6:15 PM. Some boats practiced mark rounding; some sailed a poker run; and some did both. Boats without lights returned to the dock before it got dark; those equipped for after-dark sailing stayed out to cruise under a  beautiful rising full moon and enjoy the snacks and beverages packaged by our Social Director. Nice southerly breezes at 10 MPH held for the entire evening.  All boats were back at the dock by 10 PM. Sincere thanks to the boat owners who provided the boats and the skippers who helmed them:
S2 7.9, Time Off, helmed by Kristen Kies;
J/24 What's Her Name, helmed by Ed DuPont;
Santana 20, Stinger, helmed by Kyle Cascioli
Corsair Nowhere Fast, helmed by Richard Allen
Daysailer, Reservoir Dog, helmed by Hamilton Cowie
Santana 20, Schock and Ahhh, helmed by Joel McGuire
Ultimate 20, Redbeard, helmed by Brad Lawson
And special thanks to our sponsors:
THE MARINA at Cherry Creek, who provided a boat
Cream City Market, who provided cheese
---
Marks 1 and 7 Repaired
Sometime recently, a boat or boats smashed into mark 7, cracking it open, and subjecting it to possible sinking if a heavy rain had filled it up.  A similar thing happened to mark 1. So on Friday, Sept 3, our Commodore and Rear Commodore, with a little help from our Vice Commodore, retrieved both marks and put on new barrels, and then put them back in the water.  Shown in picture 1 is mark 7 after it was removed; and in picture 2, after the replacement was put in.
---
DSA Clubhouse Repair Work Completed!
Give a big Thank You to DSA member Doug Work, who, over a 4-day period (August 21 - 24) power-sanded the clubhouse floor and then applied two coats of solid color deck stain.  This completed the planned repair work for the flood damage from June 12 - 25.  This week we will be moving back in the articles that were removed on June 12 prior to the flooding, and the clubhouse will be back in operation.
---
On Saturday, August 1, a select team of DSA members completed another work day at the DSA clubhouse.  With help from Bill Cabrall, Tex Poor, Doug and Noah Work, and Adam Hostetter, we were able to finish cleaning the cabinets, trim the vinyl floor around the cabinets, and paint the walls. The next work project will be to sand and paint the subfloor.
---
DSA Sailors compete in the Lightning International Masters Championships
Five DSA Lightning sailors competed in the 2015 Lightning International Masters Championships this weekend at the Buffalo Canoe Club in Ridgeway, Ontario, Canada. A total of 63 boats competed. DSA skipper David Spira, with crew Ty Whitman and Randy Shore, took 32nd place; Bill Cabrall, with crew Raeyane Farrell and Arnie Quinn, took 47th place. Ian Edwards, with Becca Hofmeister and DSA crew Steve Davis took 48th place, and Clark Trow, with Andy Wright and DSA crew Jim England took 51st place. Well done, DSA sailors!
---
DSA Members Make Significant Clubhouse Repairs
Thanks to the  good work of the following DSA members, we made significant progress in the work to repair the DSA clubhouse, on Friday afternoon July 17 and on Saturday morning July 18:
Kristen Kies
Kurt Robinson
Cameron Robinson
Cooper Robinson
Catherine Stevens
Tex Poor
Joe Beierl
Richard Allen
Raymond McCleery
Ralph Stevenson
David Thompson
Here is what got done:
Removed dead plant material from driveway entrance to DSA clubhouse area
Swept driveway near entrance to clubhouse area
Cleaned picnic tables in tent area
Moved picnic tables in tent area to be ready for use
Scrubbed cabinet doors and clubhouse walls
Removed remaining jammed drawer and cleaned it
cleaned the cabinets
removed the baseboards and cleaned them
swept the floor
cleaned the refrigerator
applied weed killer to the cracks between the pavers
re-mulched the area between the driveway and the seawall (reusing mulch that had been deposited on the driveway)
Removed trash
---
DSA Members Report Back from Aspen Regatta
Photos attached courtesy of Carter and Kate Spencer.
Team Lion (Boats: Dandy, Randy and Sandy) went on a family and friends vacation to the 46th annual Aspen Open Regatta at Ruedi Reservoir. Randy (Nate, Adam, and Zach), arrived Friday afternoon around 1pm and represented DSA well by stuffing the skipper's bags with 2015 Governor's Cup flyers. Dandy and Sandy (Lucas, Garrett, Carter, Kate and Kristen) followed, and after an eventful trip, arrived just in time for cocktails. Friday was a gorgeous evening, and while the rest of the weekend did not disappoint, the wind was especially vigorous and fickle. Randy and Sandy had not been properly christened prior to the trip, and while we suspect this may have had something to do with what happened next, only Mother Nature shall know. Day One started with the typical morning calm and a freshening breeze by noon. The excellent RC managed to get two races off before a storm with multiple microbursts and 40+ winds knocked almost everyone on their ear, including a J-22 that paid a visit to Davey Jones' locker. Just as Sandy was finishing her second race, she felt the disturbance winding up and not so gracefully made it to the beach. However, Mother Nature still wanted a piece of her. So Sandy and her dolly were ripped violently out of Kristen's hands and onto another trailer, allowing the trailer to take a bite out of her rudder. Dandy made like white puffy seeds and arrived in the harbor safely. Randy came in hot, and wound up on her side for the duration of the storm. Coming out of it she was a bit disoriented – and let go of her masthead fly. Fortunately, the storm eventually passed, allowing stalwart rescue boats and determined crew to reorient the J22 and recover it from the deep. Shaken but not stirred, all relaxed in the calm of the evening. During the Aspen Yacht Club raffle, Randy won a pocket knife and Sandy a bottle of Goslings dark rum.
On day two, Dandy was a little tired of being on a tight leash. With a gentle roar she let loose her hiking strap and sent her captain swimming. Sandy was in a real mood, and decided to take a death roll and also throw her captain out. To keep the rescue boat engaged, but not too helpful, she sent them a half-empty bottle of chocolate milk. This allowed Kristen enough time to wrestle with her and ultimately flop like a sea lion onto her stern and finish one more race. Randy in her slumber the day prior had taken on a bit of water, and was pretty quiet. At the end of day two, Dandy took third place in the (Portsmouth scored) AUSUM fleet (pronounced "awesome") and Sandy took third place (out of three) in the Laser fleet. DSA member Wayne and his two kids brought back two firsts and a second in their respective classes for Lasers, and the second place Laser sailor from Colorado Springs committed to coming to DSA for the Governor's Cup. In addition to sailing, much fun was had eating, drinking, dancing, building fires and s'mores, playing ukulele, singing, cooking, chatting with and helping one another. The hospitality of the Aspen Yacht Club is second to none! All boats and crew returned safely and happily to their home club, and are glad to be there.
---
 The U20 - Fleet 4 Story
The 2015 Aspen Open is in the record books. This year's event, Saturday edition, experienced numerous micro-bursts causing MOBs, knockdowns, turtles, capsizes, shredded sails, broken masts and other equipment, boats grounded on the beach and one completely but salvageable sunken boat (a J22). Redline turtled and filled completely with water. The airtight compartments prevented the boat from sinking while it was pumped out. That's the bad news.....the good news is that RC and rescue boats handled the situation in professional form and no one was seriously injured. While Sunday brought more wind, the conditions were much more manageable. With five very competitive races completed in the U20 Fleet, the results were 'Juiced!' 1st; 'Red Line' 2nd; 'Redbeard' 3rd; 'Velocitize' 4th and 'Mongoose' 5th. Several U20 skippers and crews said speeds attained this weekend were the highest they've ever experienced on a U20 (+15kts >) Next up is the Dillon Open on August 1 & 2. Yeeeehaaaaaaaaaaaaaaa!!!!
---
Revised Sailing Instructions
Articles 3.7 & 19.5 Added to Sailing Instructions 6.21.2015
To encourage racers to sign up for Race Committee dates, we have made changes to the Series Racing Sailing Instructions.  Articles 3.7 and 19.5 were added to implement a new scoring procedure: skippers who have not scheduled themselves for race committee dates, per article 19.1, will not be scored until they do so. If you have not already done so, please
 go here
to sign up for your Race Committee dates. 3.7     Competitors shall register when they intend to meet Item 19, RACE COMMITTEE REQUIREMENTS, to have their race results scored. All races sailed prior to scheduling or meeting an RC Duty commitment, will be recorded as DNC. Up to 2 Race day scores (4 races) will be recorded following their scheduling of their RC Duties commitment. (All races sailed prior to this revision date will be restored upon completion of their RC schedule commitment.) 19.5   If a skipper does not schedule when they will meet their RC Requirements, they will not be scored until their RC Duty is scheduled or completed.
---
News: High Water 2015 (6/29)
Monday, June 29, 2015, 5 AM The lake continues to drop. As of 5 AM today the lake level was 5551.90 feet, or 15.96 inches below the top of the seawall, and 40.68 inches below the high water mark of June 18. This matches the level on the morning of June 12, just prior to the rapid rise that resulted in flooding beginning that evening. If this rate continues, we expect to see the lake drop to 5550.94 feet by 5 AM on Wednesday, July 1.  That's the level it was at on June 6.  Note this rate is subject to change at any time. If any rain falls on the watershed between now and then, that will affect the rate of dropping.
read more
---
Kurt Giltner's Shootout / Hornblower Regatta Pictures
Now Available for Purchase
Kurt will donate 10 percent of the revenue he receives from his photography.  Excellent pictures to choose from to remember the regatta. Click the link below.
http://kwgphotos.smugmug.com/ShootoutHornblowerRegatta/
---
Lake Level is Receding
The lake reached a high water mark at 2 PM May 13th at 5553.78 feet, and after the floodgates opened at 250 CFS, started dropping slowly.  At 6 AM today (May 14) it was down to 5553.55 feet, a drop of 2.76 inches. At this rate it looks like it will take another 22.26 hours to get down to the top of the seawall -- around 4 AM - May 15.
---
The Marina Is Open!
Yesterday, Vencore Marine Group, LLC (VMG) entered into a temporary contract with Cherry Creek State Park to operate the Marina slips and storage areas for the 2015 season. Vencore is now ready to accept slip and space rental agreements and payments — and encourages you to select and reserve your space immediately. 2014 slip holders will receive a contract, the rules and regulations and pricing sheet shortly.  If you do not receive one in the next day or two, please visit the
Vencore website
, where you can populate and print a copy. Vencore is holding the slip prices at the 2014 Rate Card level!
Please note that a Certificate of Insurance listing "Vencore Marine Group, LLC" as an additional insured must be supplied to Vencore and a copy in their Marina Office before your vessel is brought onto the property. This is easily done with a phone call to your insurance agent.
Boat Launching begins on April 16, 2015
Vencore is currently cleaning the docks and preparing the marina for a great season. The spring cleaning work party starts at 10:00 a.m. this morning – come down and lend a hand! With your paperwork and payment completed, you may launch your boat Friday, April 16. Feel free to bring your agreement, certificate of insurance and your check by the Marina Office on the dock at least 48 hours before you launch.  Do
not
put your boat in the lower parking lot until after you have a contract, and don't do it before April 16. The Marina Office on the dock will be staffed from 9:00 a.m. to 7:00 p.m. daily.
New This Year!
While Vencore has extensive plans for the Marina, most of those will be set aside until Vencore Marine Group's long-term contract with the State has been finalized. However, we look forward to bringing you added value such as:
A mini West Marine store – look for most of the items you need to launch, dock and have fun with your boat — conveniently located on the dock.  Our prices in most cases are the same as the store's.
Social functions including live music, BBQ parties and more – there will be music, and plenty of it!
Jeff and Joe are Back!
We are pleased to welcome back Joe Luehrs as our Marina Manager and Jeff Drew as our Operations Manager. Their many years of expertise at Cherry Creek Marina are invaluable as we keep things in the best possible shape this season — and transition into future improvements.
We Welcome Jim Rowe as our General Manager!
Many of you know Jim from West Marine and are well aware of his wealth of knowledge about all things boating. Please feel free to contact me with any questions. See you on the docks! Erik Erik Dyce CEO & President Vencore Marine Group
itsanewday@cherrycreekboating.com
---
A Super DSA Spring Workday
Great members and terrific weather made this year's spring workday a total success.  Fun and work was shared as the Mako was splashed and deemed fit for service.  Marks were set, picnic tables set up and RC equipment organized were among the many tasks completed. Our thanks and appreciation to these 14 members! Glenn Hackemer, Curtis Rist, Ray McCleery, Mike McKeever, Fred Wolf, Jim England, Kristen Kies, Larry Arbuthnot, Bill Cabrall, Nate Hostetter, Brad Lawson, Richard Allen, Ed DuPont and Tom Downing For making the 2015 Spring Workday an enjoyable success.
---
What's Going On At Cherry Creek Reservoir and DSA?
DSA 2015 Sailing Season Begins Saturday, April 4
What's going on at Cherry Creek Reservoir and DSA?  DSA racing is going on, and that is good news! As many have heard, about a year ago the State put out its periodic bid for the marina concession, and about 6 months ago that bid was awarded to Vencore Marine Group (VMG) LLC, to begin April 1 2015. Vencore is an experienced state contractor run by sailors that are known by many of the DSA members. As bids and contracts go, this process for a variety of reasons has not been executed, and the old contract with the existing Mariana operators has expired. The State is planning to contract directly with the clubs as to not delay their programs for waterfront activities, to allow the season to start up on time April 4
th
Here is the line up  
The 2015 DSA Thaw-out series is scheduled to begin Saturday, April 4. The 2015 spring workday is scheduled for Saturday, March 28. Please mark these dates on your calendar, and plan to join us on March 28 for the spring workday. In the meantime, DSA is accepting and processing 2015 membership renewals and park pass orders. The first order of business for everyone is to renew your DSA memberships and buy your discounted park passes.  Passes purchased online will be picked up from the state on April 1 so please get your pass purchases completed by March 24, 2015. Visit our website's
membership renewal page
to renew your membership and order park passes. Stay tuned for more information on boat storage at the marina.
---
Lake Levels Looking Good for 2015 Sailing!
Cherry Creek Lake Level on January 8, 2015 (5,550.40 ft. above sea level)
As of January 8, 2015, the lake surface was at an elevation of 5,550.40 feet above sea level, or 34 1/8 inches below the top of the seawall.
In 2013, the year of the monumental drop in water level, the lake surface at the end of August was at 5546.38 feet above sea level, or 82 1/4 inches below the top of the seawall.  This seriously impacted sailboat racing in August and early September, due to shallow water in the marina and around some of the numbered marks on the race course.
But then, monumental rains the week of September 9 – 13 brought the lake back up to above normal levels, and subsequently to an elevation of 5,553.37 feet above sea level on September 24, or 1 & 3/4 inches above the top of the seawall.  Water had covered the sidewalk in front of the seawall and was encroaching on the southeast-facing side of the DSA clubhouse.  The picnic tables under the tent were in a sea of mud. The lake subsequently subsided to normal levels by the middle of October.
Since that time the Corps of Engineers stated an intention to keep the lake at its approved recreational level, 5,550.0 feet above sea level, and to date, they have done exactly that!
For the entire calendar year of 2014, the lake elevation varied from a high water mark of 5551.07 feet of elevation on May 14 to a low-water mark of 5549.90 feet of elevation on July 30.  The lake surface was at or above the approved recreational level on 362 of the 365 days in 2014.   This was great for sailboat racing, with no issues launching and retrieving boats and sailing on the race course.  Details here.
And it looks good for this to continue in 2015!
---
Loss of a Dear Friend and Sailor
It's with a sad heart that we share the news of the loss of a dear friend and sailor....Roy Burley lost his battle with cancer December 31, 2014. Roy was a great friend of the sailing community, always there to lend a helping hand, with an ear to listen and a drink to share some laughs. Roy will be sorely missed. You can follow Friends of Roy Facebook page, feel free to share photos and memories for his friends and family.
                         Roy Warren Burley             May 9, 1945 – December 31, 2014 Most all would agree with a smile on their face and love in their heart that Roy Burley was one of the most kind, generous, loving, charismatic, storytelling, and most amazing person of all time. He loved sailing, golfing, laughing, loving and winning, but most of all he loved to be with family, friends and the sailing community in Colorado, enjoying a day on the water or a beer on the golf course, a story, a great laugh and a few gin and tonics. He not only enjoyed life, but helped so many others see what life had to offer and the joy that came from living each and every day to its fullest. Roy was a proud native who lived in and loved Colorado his entire life. Roy leaves behind a family who are so sad to say goodbye, wife Patti, whom he cherished and adored, daughters Mindy Parvin, Molly Samson, Christina Keller, Ashley Toensing, and son Matt Toensing. Sons-in-law Mark Parvin, Brian Samson, Thomas Keller, and his beautiful grandchildren Bryce and Dax Parvin and Avery and Claire Samson. In lieu of flowers, have a moment with those you love, enjoy a great drink and a story of joy and happiness, reach out to someone you haven't spoken to for a while just say hello, and most of all start living a life only you can create. A celebration of Roy's life will take place this spring on what would have been Roy's 70th birthday at Lake Dillon, Colorado, information will be sent out via Friends of Roy and the Colorado sailing community. As Roy said many times, "Every day is a good day, live it like that."
---
2015 Denver Boat Show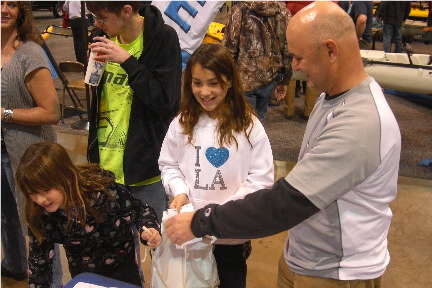 DSA exhibited at the 2015 Denver Boat Show at the Colorado Convention Center, Friday through Sunday, January 9 - 11. We were part of a combined booth of Colorado sailing and yacht clubs organized by the Sailing Association of Intermountain Lakes (SAIL), the US Sailing regional authority for the Colorado region.
---
---
---
---